Home > News > First Look


Bush leaves for India

March 01, 2006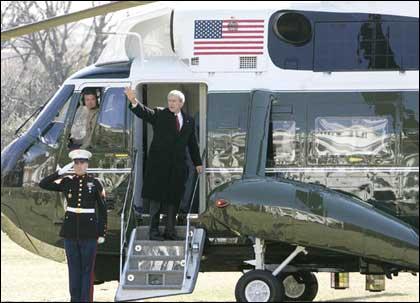 United States President George W Bush, accompanied by First Lady Laura Bush, left Washington, DC for India and Pakistan on a five-day trip.
Bush -- seen taking a helicopter to Andrews Air Base -- boarded Air Force One at around 1.45 pm local time (0000 IST) on Tuesday after a meeting at the White House with Italian Prime Minister Silvio Berlusconi.
He will reach New Delhi at about 1915 on Wednesday evening.
This is the American president's first trip to the sub-continent
Photograph: Courtesy The White House


What do you think about the story?








Read what others have to say:





Number of User Comments: 5








Sub: Mr. Bush's visit to india

it not the fact that Mr. Bush and his men would visit india to influence the politics of asia.


Posted by mcsarkar









Sub: to bush

w e l c o m e ...


Posted by pankaj









Sub: cheercomes to bush

welcome mr bush to india. the very first thing we want you to do sir is that give ultimatum ending against terrorism. secondly if boycoting ...


Posted by shanti kumar









Sub: Mr. Bush should bring peace

Its one of the major event taking place. I hope that the the president Bush's visit will bring more important relationships with India. It would ...


Posted by raju









Sub: commt

As per as my concern at present business sitiuation all the sectors are doing well indian are well verest in all sectors in terms of ...


Posted by arun






Disclaimer