Home > News > Report

President Bush arrives in Delhi

George Iype in New Delhi | March 01, 2006 20:10 IST
Last Updated: March 01, 2006 21:41 IST



United States President George W Bush arrived in India for a three-day visit that is expected to take the Indo-US relationship to new heights.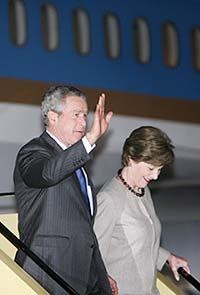 Breaking protocol, Prime Minister Manmohan Singh personally received President Bush and wife Laura at the Indira Gandhi International Airport in Delhi.

Wearing a dark blue suit and pink shirt, Bush and his wife Laura stepped down the ladder to be received by Dr Singh and his wife Gursharan Kaur, as American sharp shooters kept vigil. A smiling, waving Bush put his arm around the prime minister as they had an animated conversation lasting a few minutes on the tarmac. Thereafter, they posed for photographs but Bush made no arrival statement.
Before driving to Maurya Sheraton Hotel in his armour-plated limousine specially flown down from US, he shook hands with Science Minister Kapil Sibal, the minister in waiting, National Security Adviser M K Narayanan, Foreign Secretary Shyam Saran and US Ambassador David C Mulford.
Air Force One, the plane carrying Bush -- the fifth American president to visit India -- flew down with a high level official delegation headed by Secretary of State Condoleezza Rice.
From the airport, Bush drove down to Maurya Sheraton Hotel, which has been completely taken over by the US administration for Bush's maiden visit to South Asia. Bush has no official engagement tonight.
It is going to be a busy day for Bush Thursday. He will be a given a ceremonial welcome on Thursday morning on the forecourt of Rashtrapati Bhavan. Soon after that, Bush and Dr Singh will sit down for summit-level talks -- the high point of the visit.
Officials said Indian and American officials have made tremendous progress in their talks on the crucial nuclear deal, the most talked about Indo-US agreement on separation of India's civilian and nuclear facilities.
Before he drove down to the airport, Dr Singh held a Cabinet meeting. Officials said Cabinet has given its approval to the nuclear deal.
That the deal is nearly through was disclosed by Rice on board Air Force One.
"What is necessary is that any agreement would assure that once India decides to put reactors under safeguards, it remains permanently under safeguards," she said.
Dr Singh has already said that the agreement would be a great contribution of Bush in ending India's isolation from the world nuclear order.
Dr Singh added the separation of India's nuclear facilities was not a dividing issue. "I have told Parliament the deal is not about India's strategic programme. What is in discussion is our civilian nuclear programme," he said.
More than 5,000 personnel including snipers, commandos and US marines using helicopters, bomb detectors and electronic jammers will protect Bush during his India tour.
Bush will travel to Hyderabad for a few hours on Friday, before leaving for Pakistan.
Left-led organisations are planning to hold massive demonstrations across the country to protest against his visit.


What do you think about the story?








Read what others have to say:





Number of User Comments: 1








Sub: Leftists Proposed Demonstrations on the eve of President Bush Visit

The Leftists in India, having monopolosied the state of West Bengal over the last 25 years with complete strangle hold over the electorate manage to ...


Posted by Radhakrishna






Disclaimer