Home > News > Specials

The Rediff Special/ Ramananda Sengupta

Death and distrust in J&K

June 21, 2006



The figures say it all.

Or do they?

According to the South Asia Terrorism Portal, a Delhi-based non governmental organisation which bills itself as the largest web site on terrorism and low intensity warfare in South Asia, there were 490 deaths due to terrorist violence in Jammu and Kashmir from January to June 18 this year, 40 of them between June 12 and 18.

For the same period last year, the figure was 844.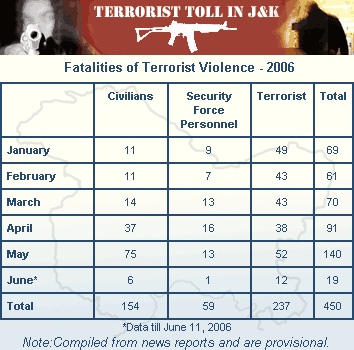 The decline in numbers however, have more to do with Indian efforts than those by Pakistan's strongman Pervez Musharraf, who despite repeated promises has not, or cannot, check his Inter-Services Intelligence, or ISI, which sponsors, aids and abets the Jihadi movement in the Indian state.
"The principal cause for the decline in numbers," says Dr Ajai Sahni, Executive Director, Institute for Conflict Management and the South Asia Terrorism Portal, "is the enormous external pressure on Pakistan, as well as growing internal difficulties in that country, which have made it impossible to sustain terrorism in J&K at past levels under the protection of 'credible deniability'. The international 'tolerance of terror' and the whole nonsense of ambivalence about 'terrorists and freedom fighters' is declining."
India voices terror concerns with Pak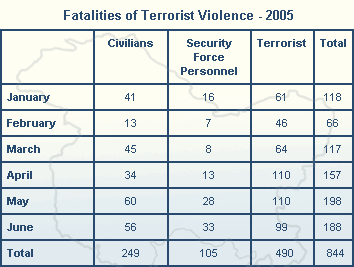 According to Dr Sahni, "several secondary factors have compounded these trends. Declining local support to the jihad; the construction of the fence, which has made infiltration relatively difficult; increasing public cooperation and intelligence flows; increasing involvement of local forces (state police units) in counter-terrorism; and improvements in counter-terrorist operational strategies and tactics are among the more important of these secondary factors."
Strategic expert Dr Brahma Chellaney, however, believes that "the intensity or extent of terrorist violence cannot be truly ascertained through casualty figures or the number of terrorists killed. Every year, terrorist violence tends to be ebb in the winter months and begins to rise again with the arrival of spring."
"This summer has brought terrorism in the form of attacks on tourists from other parts of India as well as strikes on Hindus that remain in Muslim-majority districts like Doda. As Defence Minister Pranab Mukherjee said on May 17, "No evidence is available to suggest that Pakistan has taken measures to completely dismantle the terrorist infrastructure within Pakistan and PoK," he says.
"The Indian-initiated 'peace process' provides Pakistan a convenient cover to continue with its orchestration of terror attacks in India," Dr Chellaney concludes.
But Dr Sahni believes that while "there have been a number of dramatic terrorist incidents engineered outside J&K in the recent past, these are consistent with Pakistan's abiding efforts to create disturbances across India, wherever possible. The present difference is that Pakistan has a stronger immediate motive to support such activities outside J&K because it can more easily deny involvement and project these incidents as the work of Muslims who 'suffering oppression' in Hindu India."
BJP, Sangh condemn Nagpur attack
"Nevertheless," he says, "the handful of incidents in other areas cannot compensate for the dramatic loss of dominance in J&K and are, at worst, irritants for the Indian security establishment, and personal tragedies for the victims of such attacks and their families."
The "handful of incidents" in Kashmir and in other parts of the country, however, were enough for Prime Minister Manmohan Singh to postpone his expected tour of Pakistan in June.
After the hardline elements of the Hurriyat declined once again to attend the talks with the government in Srinagar, Prime Minister Singh said the question of 'demilitarisation' of the valley as demanded by them and their sponsor Musharraf was not viable until there was an end to cross-border terror.
PM's five-point plan for a new J&K
While the official explanation for the postponement was the lack of progress at the talks on Siachen, the signs indicate that New Delhi, which had earlier agreed not to let militancy derail the peace process, seems to be finally losing its patience.
South Asia expert Dr Sumit Ganguly, Rabindranath Tagore Professor of Indian Cultures and Civilisations, and Professor of Political Science at Indiana and author of several books on Kashmir, is equally pessimistic.
"I would not read much into those statistics beyond the fact that it may represent a tactical move on the part of General Musharraf. He is under some pressure from the US to show results in the fight against a resurgent Taliban, he faces a serious uprising in Baluchistan and also realises, perhaps, that Manmohan Singh is tiring of his antics. Consequently, he may have briefly called his dogs off."
Charts courtesy: www.satp.org
The Rediff Specials


What do you think about the story?








Read what others have to say:





Number of User Comments: 3








Sub: peace

in the west indians and pakistanis are the best of friends they live as family,whats gone wrong in the subcontinent,primarily we have to take out ...


Posted by abhinav vats









Sub: Softpedalling Terror -In JK

Camp -New -Delhi June 23rd 2006. Well Gen Musharraf plays his Peace Diplomacy ,well orchestrated with his ISI sleuths mastering blowing hot and cold on ...


Posted by Dharmendra Goel









Sub: CAN WE TRUST PAKISTAN//?

NO nOT IN THE LEAST.Indian moslems even after enjoying the benefits from the independent indiafor50long yearsthey owe allegiance to some alien nation or the other.History ...


Posted by R.K.SUNDARAM






Disclaimer