Home > News > First Look


Remembering a martyr

June 16, 2006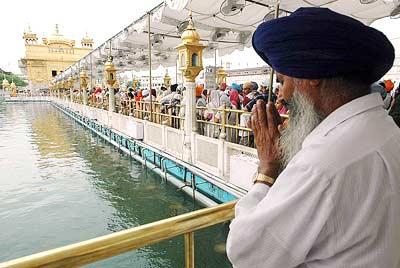 Sikh devotees at the Golden Temple in Amritsar, on Friday, the 400th martyrdom anniversary of Guru Arjun Dev.
Guru Arjan Dev was the fifth Sikh Guru and the first Sikh martyr. He laid the foundation of the Golden Temple.
On Wednesday and Thursday, Sikh pilgrims crossed into Pakistan at Wagah, as part of Panj Pyares, a procession that started at the Golden Temple. The Gurdwara Dera Sahib, Lahore, is where Guru Arjan Dev was martyred and has great importance to millions of Sikhs across the world.
Photograph: Narinder Nanu/AFP/Getty Images
Also read: A Guru's sacrifice remembered