Home > News > Report

Rahul Mahajan speaks out

Onkar Singh in New Delhi | June 15, 2006 18:49 IST
Last Updated: June 15, 2006 20:30 IST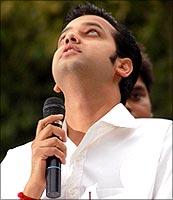 Rahul Mahajan, son of late Pramod Mahajan of the Bharatiya Janata Party, has denied the charge levelled against him by the Delhi police that he is a drug addict.
He said this at his first press conference in New Delhi after his release on bail on Thursday.
"I wish to tell the people of the country that I am not a drug dependent or user. Because of this incident, I had to suffer imprisonment and humiliation and the loss of a close and sincere friend," Rahul said in a written statement that was prepared by his advocate Ramesh Gupta.
Rahul said that he would suffer for his deeds, but refused to reply when a newsman asked him how Vivek Maitra had died.
"The matter is sub-judice and it is not proper for me to speak," he said.
He apologised to his mother, sister, and to his uncle Gopinath Munde and all his relatives and friends to whom this incident has caused pain and anguish.
"I express my sincere thanks to former prime minister Atal Bihari Vajpayeeji who stood behind me like my father after I lost my father. I am thankful to Rajnathji. I was born in BJP, I am in BJP and I would die for the party. It is wrong to say that BJP had distanced itself from my family during the crisis. Now that I am out on bail, I would be better placed to prepare myself to defend myself," he said.
He refused to say anything on the case itself or its merit. He expressed gratitude to the doctors in Apollo hospital, his legal team, his family and those who supported the family wholeheartedly.
He quoted Atal Bihari Vajpayee at the end of his statement: "We spend far too much time preparing the path for our youth, and far too little time preparing our youth for the path," he said.
He denied that the party had offered him work before the June 2 incident. "It was lunch and nothing more," he said.
He is expected to call on BJP leaders Vajpayee, Rajnath and Advani in the next couple of days to express his gratitude.


What do you think about the story?








Read what others have to say:





Number of User Comments: 11








Sub: Character assassination by???????Sir?

Its disgraceful for a brother to kill an elder brother for reasons(??) now fabricated as per his hirers lawyer.He could vomit anything now after his ...


Posted by CHOPRA.









Sub: this is uncalled for...

It is a matter of utter shame on the part of this website for consistently presenting articles in a way to show the human face ...


Posted by chaitanya









Sub: my wish foe rahul Mahajan

It seems Rahul Mahajan has become a Crime spot for the nation. Let the the law take its own course. As for the names of ...


Posted by Daniel









Sub: Rahul is a liar

Sir, As every addict says the same as Rahul said, Rahul is a liar. We expected truth from him. He is trying to prove everyone ...


Posted by Dr. Rehan Ansari









Sub: rahul mahajan speaks

No question about consuming contraband drug by rahul mahajan which leads to a arrest by Delhi Police. But at the same time, the Delhi Police ...


Posted by akhilesh srivastava






Disclaimer