Home > News > First Look


Rahul wheeled into custody

June 06, 2006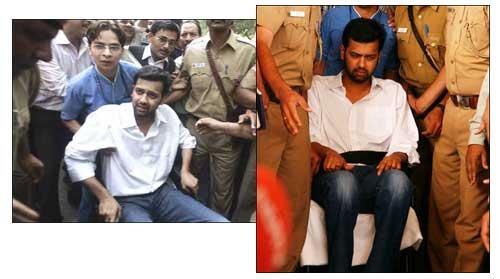 The Delhi police on Tuesday produced Rahul Mahajan at the Patiala House court in the capital, soon after he was discharged from the Apollo Hospital.
The court remanded him in police custody for two days after the cops sought for a five-day custody.
The cops escorted Rahul in a wheelchair.
The police arrested Rahul on Monday after registering a case against him under the Narcotic Drugs and Psychotropic Substances Act.
Rahul was on life support after a late-night drinking binge on June 1.
His late father Pramod Mahajan's secretary Bibek Maitra had died on the way to the hospital.
Coverage: Tragedy strikes the Mahajans, again
Photographs: Manan Vatsyayana/AFP/Getty Images (L) and Sondeep Shankar/Saab Press 


What do you think about the story?








Read what others have to say:





Number of User Comments: 9








Sub: Rahul Mahajan

It is sad but we have to accept the fact that Drugs are easily procurable in most of the cities in India. The police are ...


Posted by stk









Sub: Rahul wheeled into custody

It is hurtful to see rahul in this condition.I hope he will teach a lession from this bad time and he will keep himself from ...


Posted by kumar lawkush









Sub: What a life...

A month back he was the dutiful son whom the whole India looked up to and now he is someone nobody wants to be associated ...


Posted by ana









Sub: Rahul.

looking at his photo in a wheel chair ,feel sorry for him .


Posted by nandita









Sub: Social Issues...

Bad for the Mahajan family, but good for overall social issues getting sorted out. Unless we convict some of these high profile citizens in all ...


Posted by S. Chakraborty






Disclaimer