Home > News > Report

Meet the next Chief Election Commissioner

R Prema and Sheela Bhatt in New Delhi | June 05, 2006 23:15 IST
Last Updated: June 08, 2006 12:51 IST



Election Commissioner N Gopalaswami, 62, will take over as the Chief Election Commissioner from B B Tandon on June 29.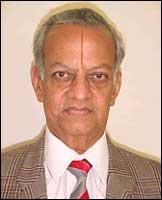 Gopalaswami is believed to be the brain behind the decision to hold a five-phase election for the West Bengal Assembly to ensure fair polls.
Gopalaswami has been chosen for the top job on the basis of his seniority and Election Commissioner Navin Chawla will take the reigns in time for the 2009 Lok Sabha elections.
The government will name Gopalaswami's replacement by June 29 and the names doing the rounds include Home Secretary V K Duggal.
Highly placed sources said Prime Minister Manmohan Singh stood by the high tradition of elevating the senior-most officials to prestigious constitutional posts.
While Chawla joined the Commission only last year, Gopalaswami -- fondly called Gopu by friends -- has been around for the past two-and-a-half years.
An official announcement appointing Gopalaswami as the next CEC will, however, be made only after President A P J Abdul Kalam signs the orders on the recommendation of the prime minister, the sources said.
An IAS officer in the Gujarat-cadre of the 1966 batch, Gopalaswami was born in Tanjavur, Tamil Nadu, but for all practical purposes Gujarat has remained his home.
He did his post-graduation in Chemistry from Delhi University and had served in Gujarat in various capacities for 25 years. He was Union Home Secretary since October 2002.
Gopalaswami, who will be CEC for 30 months, is reportedly busy poring through the "office-of-profit" petitions forwarded by the President and various state governors.
Clearing them from the Election Commission's table will be his first task after assuming office, sources said, since, for all practical purposes, Tandon is now on leave until retirement.
Gopalaswami's appointment may upset the Left parties, particularly the Communist Party of India-Marxist, as he not only was the architect of the five-phase polls in West Bengal, but also showed activism in egging CEC Tandon to seek information from 19 CPM MPs on why they should not be disqualified for holding offices of profit.
Since Gopalaswami's appointment as one of the two Election Commissioners came during the National Democratic Alliance's term when he was the then deputy prime minister Lal Kishenchand Advani's home secretary, there are murmurs in political circles that he is close to the Bhartiya Janata Party.
However, his track records tell a different story. Bureaucrats from Gujarat recall how strict he was as the municipal commissioner of Surat in his second posting in the mid-1970s. A Congress leader had approached him with a bribe of Rs 5,000 for clinching a particular contract. Gopu first rang up the chief minister to complain against his party leader and then called the local cops to arrest him for an attempt to bribe.
Gopalaswami's two sons live in Bangalore and Chennai, while his wife Rajam is a homemaker.


What do you think about the story?








Read what others have to say:





Number of User Comments: 1








Sub: astrology

learning astrology purifies mans thinking and set to raightpath in life.


Posted by m v sastry






Disclaimer