Home > News > First Look


A surrender in Kashmir

July 31, 2006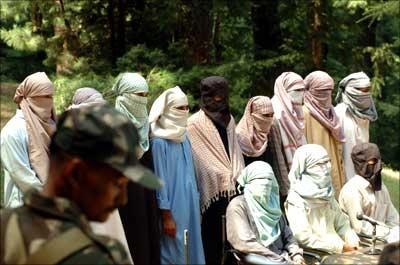 As security forces stepped up anti-militancy operations in Jammu and Kashmir, 12 militants from four different outfits, laid down arms in Baramulla district on monday.
The militants, affiliated to Hizbullah, Tehreek-e-Jehad, Hizb-e-Islami and Hizbul Mujahideen, gave up before the army at a function in Baramulla town. A huge cache of arms and explosives, including six AK assault rifles, a carbine machine, three shoulder-fired rocket launchers, five Chinese grenade launchers and an RPG round were also handed over.
Disillusionment, frustration and a strong desire to return to their homes to rejoin the mainstream led the ultras to surrender, a defence spokesman said. With their faces covered due to security reasons, the militants gave mediapersons details of how they were lured to cross the Line of Control, given training in handling of weapons and explosives and indoctrinated for jihad (holy war).
They also highlighted the role of Pakistan's Inter Services Intelligence's activities in the valley. A number of Kashmiri youths in ISI's training camps had committed suicide while others were doing menial jobs to earn a living, they claimed.
Photograph: Sajjad Hussain/AFP/Getty Images
Text: PTI


What do you think about the story?








Read what others have to say:





Number of User Comments: 9








Sub: Can't we motivate these people?

We should motivate these people to be fighting with ISI directly as they know more about them then BSF. We should give Veer Chakra or ...


Posted by Mehul









Sub: Great

Great guys, after all we are all brothers (irrespective of our religiou beliefs/faiths). These ppl should be helped to regain thier old peaceful life and ...


Posted by Ramesh









Sub: A surrender in Kashmir

It is aptly said that the young people joined the terrorist group due to frustration, unemployment and of course for a living. The only solution ...


Posted by Ramachandran Parakkunnath









Sub: militants surrender in kashmir

it good to hear such news when militant activities have gone up across the country.the govt of india should lure more militants and should start ...


Posted by Senthil.A.R









Sub: why the identity be secret

I have always seen the pictures of captured militants or be anyone captured by security forces or police, the arrested person face is covered. Why ...


Posted by sj






Disclaimer