Home > News > First Look


Image: Securing Srinagar for President Kalam

July 29, 2006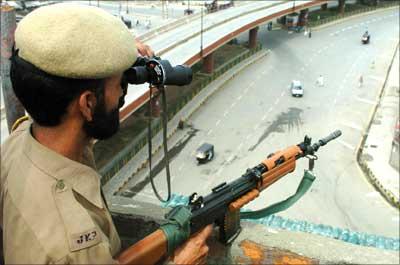 A security force jawan with a bulletproof jacket every ten feet on the banks of Dal Lake. Streets deserted like they would be during a curfew. Sharpshooters on rooftops at regular intervals.
This is how Srinagar has been looking for the past three days.
The reason? President A P J Abdul Kalam is on a two-day visit for the diamond jubilee celebrations of the high court.
Security forces could even be seen patrolling interior of the Dal Lake, keeping a close watch on the houseboats.
Sharpshooters have also taken position in and outside the Sher-e- Kashmir International Convention Complex where President Kalam will address a gathering.
Intelligence inputs had suggested that militants will try to strike during the visit, official sources said.
Road blocks have been put up and at some places the roads have been fenced with barbed wire.
Sources said that security forces have not relaxed even after the arrest of a Pakistan-based Lashkar-e-Tayiba commander who masterminded the recent grenade attacks on tourists, fidayeen attack on Congress rally and other car bomb blasts in the valley.
Text: UNI | Photograph: Sajjad Hussain


What do you think about the story?








Read what others have to say:





Number of User Comments: 3








Sub: securing sri nagar for the prez

Kashmiris enjoy all benefits of special status. Hundreds of Millions of dollars as grants. subsidized rations. No liability of income tax or sales tax. (With ...


Posted by suman









Sub: Protecting its Citizen.

It's only natural for the security to be beefed up in Srinagar. India cannot trust the terrorists and has to protect the life of its ...


Posted by Saritha Varma









Sub: Let us be prepared to die for peace !

I am a Kashmiri Pandit who has lived outside Kashmir all his life. I happened to visit Srinagar just a week back and found it ...


Posted by Kusumakar Kaushik






Disclaimer