Home > News > First Look


Shiv Sena gets a swank new HQ

July 27, 2006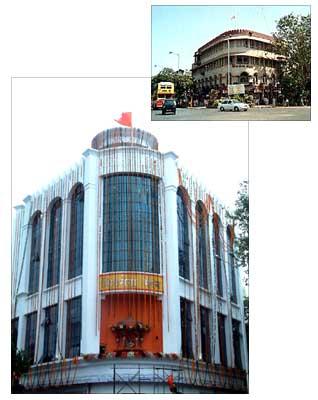 The Executive President of Shiv Sena Uddhav Thackeray will proabably get one most grand gifts of his life on his birthday on Thursday.
The 'new look' Shiv Sena headquarters in central Mumbai will be inaugurated by party chief Bal Thackeray.
With young leadership, the Shiv Sena has decided to get a new swanky look for its heaquarters and has done away with the old fortress structure which had a distinct Maratha touch to it.
The new building has corporate look to it with its large basement, five lifts, verticle parking, a large office for the senior Thackeray. The five-storied building will also have smaller plush offices for other party leaders and two conference halls.
The Shiv Sena bhavan is the building from where the party grew and weathered every political storm. The original building was constructed in 1972 (inset) however the 1993 blasts near the building weakend the structure.
The new identity of the Shiv Sena Bhavan is reflection of  the mood of change in the party.
Photograph: Arun Patil


What do you think about the story?








Read what others have to say:





Number of User Comments: 4








Sub: Shiv Sena Bhavan

The future Power Center of Maharashtra. The pride for Marathi Manoos.


Posted by sachin









Sub: What it needs is a swank new leader.

Not imposed upon from the dynasty. But someone elected through a democratic process. In any case the senior Thakare must definitely volunteer to give up ...


Posted by chanakya









Sub: Is this needed?

I feel that Shiv Sena is not even needed in India which has a racial discrimination... and you are posting a news that it has ...


Posted by karthik









Sub: focus on shiv sena attitude

Now the time is to tight for sena because he has totally change his attitue and just doing masaladar policitics does mean the new bhawan ...


Posted by jaspal singh






Disclaimer