Home > News > First Look


Homage to 26/7 victims

July 26, 2006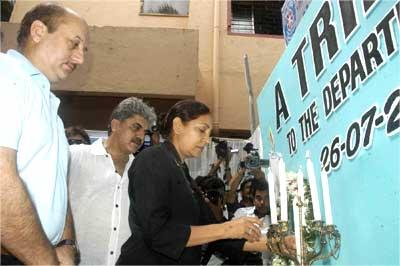 The film fraternity paid homage to the victims of last year's Mumbai deluge on 26th of July when execessive rains submerged the city.
Many film personalities had offices, studios and homes in suburban Oshiwara, Juhu and the Link Road which got submerged, causing damage to equipment and other material. They feel the state has done little in the last one year to pre-empt another 26/7 in future.
Image: From right, Deepti Naval, Ashok Pandit and Anupam Kher paying homage to victims of 26/7.
Photograph: Arun Patil
Complete coverage: Mumbai marooned


What do you think about the story?








Read what others have to say:





Number of User Comments: 1








Sub: to 26/7 victims

This was a worse day in my life as i went home after 2 days there were many hwho did not manage to go home ...


Posted by Vinod






Disclaimer