Home > News > First Look


Image: Where are our children?

July 25, 2006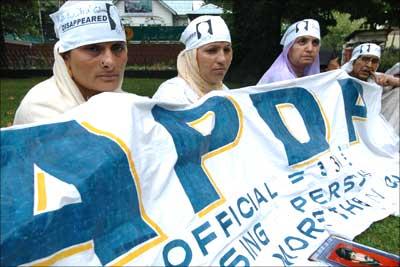 Parents and relatives of Kashmiri people who went missing following their reported arrest by the Indian security forces on Tuesday held a silent vigil in Srinagar.
The vigil at the summer capital's Sher-e-Kashmir Park was organised by the Association of Parents of Disappeared Persons which alleges that more than 8,000 people have disappeared during the 17-year unrest by Muslim separatists.
However, authorities acknowledge that only a couple of thousand people have disappeared.
Photograph: Sajjad Hussain/AFP/Getty Images


What do you think about the story?








Read what others have to say:





Number of User Comments: 2








Sub: : Where are our children?

Why don't your ask the terrorists/or the hideous Pakis they will be best to provide you with answers/ perhaps not as their religion preaches it ...


Posted by jaya









Sub: what about children who wenbt across the border

asslam-waleuqum please try to understand, the security forces are there to protect you. Please give good upbringing to your kids.. and do not send them ...


Posted by ashish sinha






Disclaimer