Home > News > First Look


Terrorists have no religion: Modi

Sumit Bhattacharya in Mumbai | July 17, 2006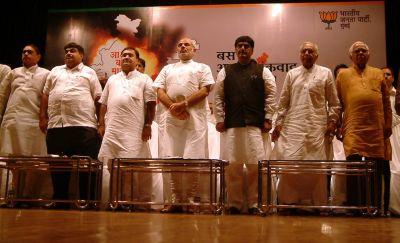 In Mumbai to address a Bharatiya Janata Party anti-terrorism public meeting, Gujarat Chief Minister Narendra Modi said on Monday that "terrorists have no religion."
"Jihadi terrorism is not Islam. Jihadi terrorism is an international threat," the senior BJP leader insisted at a meeting to condemn the terrorist attacks in Mumbai last Tuesday that killed 200 people and left about 700 people injured.
In a speech that was more like a mature statesman and less like a firebrand right-wing politician -- the Press Trust of India reported that the Maharashtra state government had warned Modi not to make any 'objectionable' statement -- the senior BJP leader emphasised the need for strong laws to tackle terrorism.
"If you (the United Progressive Alliance government) cannot enact POTA (Prevention of Terrorism Act), allow the states to do it," Modi said, adding that he had sent the proposal of a law for Gujarat on the lines of the Maharashtra Control of Organised Crime Act in 2004, and that Union Home Minister "Shivraj Patil has been sitting on it."
Modi pointed out that the United States -- which he called "the drum-beater of human rights" -- had introduced the Patriot Act, the Financial Anti-terrorism Act and the Homeland Security regime after 9/11, and that France and "even Japan" had enacted special laws to deal with terrorism.
Modi -- who was equated to Sardar Vallabhbhai Patel and hailed as the only Indian leader to have fought terror by each and every speaker at the meeting from Maharashtra BJP unit chief Nitin Gadkari (second from left) to former Maharashtra deputy chief minister Gopinath Munde (fifth from left, beside Modi) -- questioned the UPA government's "will to fight terrorism."
The Gujarat chief minister insisted that POTA -- which the UPA government scrapped as soon as it came to power in 2004, saying the law was 'draconian' and a 'weapon' to target the minority community -- would boost the morale of the security forces, and send a message to the terrorists that the government was "serious about the serious issue."
"These people (the Congress-led UPA government) cannot send a strong signal to terrorists, let alone fight them," Modi thundered to rousing applause from the 3,000-strong crowd at the Shanmukhananda Auditorium.
He launched a scathing attack on what he called "five-star activists" and people "brought up with foreign values," saying, "they paint as communal whoever speaks up against terrorism."
Modi, dressed in all white, wondered when India would be "like Israel, where everyone has a fire inside him. A dream of fighting for the country."
His 90-minute speech also focused strongly on those killed in the terrorist attacks on Mumbai.
"I have come to Mumbai with a heavy heart," the chief minister during whose reign over 1,000 people were killed in the 2002 Gujarat riots began.
Towards the end, he said, "I cannot watch 200 people die. It's not what my politics is about."
Text: Sumit Bhattacharya
Photograph: Arun Patil


What do you think about the story?








Read what others have to say:





Number of User Comments: 30








Sub: Terrorists have no religion:Modi

well said Mr. Modi, I feel gujrat is in safe hands.Terrorism has no religio. Politians are more worried about the muslim vote bank than any ...


Posted by Vikrant









Sub: MODO Should be PM of INDIA

We need a Prime Minister like Modi for handling the terrosrist.The UPA is thinking votes than Terrosrist.So that the terrorist is continuing their attack.


Posted by raj1980









Sub: terrorists have no religion modi

N Modi is not anit minority leader or hindutva vaadi. He did not utter a single word against islam, muslim or xians in his speech ...


Posted by suman









Sub: Prime Minister Modi.

Modi has proved himself as a leader par excellence and down to earth. In a short time, he has overtaken other states and led Gujrath ...


Posted by Ramesh









Sub: response to modi's speech at mumbai

the statement that jihadi terrorism is not islam is welcome. so far he has spoken the language of hate vis-a-vis muslims. while there has to ...


Posted by mahajir






Disclaimer