Home > News > First Look


Dr Singh at G-8

July 17, 2006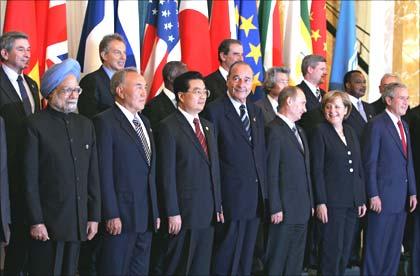 Indian Prime Minister Dr Manmohan Singh (front left) with other G-8 Leaders, invited leaders and Heads of international organisations at the Konstantinovsky palace in Strelna outside St Petersburg, July 17.
Leaders of the G8 group of major powers turned their focus Monday to salvaging stalled world trade talks after overcoming their differences to appeal for an end to the Middle East crisis.
The eight industrialised powerhouses invited their counterparts from five key emerging market economies -- Brazil, China, India, Mexico and South Africa -- to join the third and final day of their annual summit.    
Photogprah: Patrick Kovarik/Getty Images
Also see:
G-8 outraged by 'barbaric terrorism' in Mumbai
India, China, Russia meet a big step


What do you think about the story?








Read what others have to say:





Number of User Comments: 1








Sub: terrorism

I want to suggest our prime minister not only raise the question in G-8 also take assurance for taking hard step to prevent Pakistan to ...


Posted by L K JHA






Disclaimer