Home > News > First Look


Image: Collateral damage at AIIMS

July 07, 2006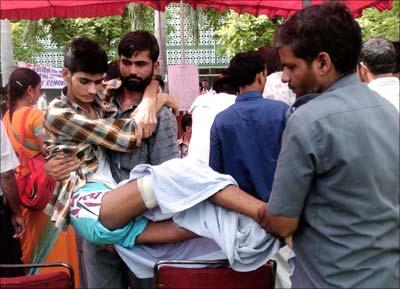 Patients had a tough time as health services at the All India Institute of Medical Sciences were hit following the doctors' strike to protest the removal of Institute's Director P Venugopal.
Later in the day, the Delhi high court stayed the dismissal.
The institute suspended its emergency services and OPDs of various departments functioned with a skeletal staff, with authorities admitting a few patients for treatment.
The striking doctors had opened a parallel OPD service at the institute and claimed to have treated 700 patients.
"We do not want the patients to suffer because of the strike so we decided to run a parallel OPD," senior resident doctor Anand Mishra said.
Meanwhile, the Institute has ordered a probe into the death of a heart patient who died within the AIIMS premises after he was allegedly turned down by the doctors citing the strike.
Image: A man carries a patient after getting him checked at the parallel out patients department (OPD) being run by striking doctors of the All India Institute of Medical Sciences in New Delhi.
Text: PTI
Photograph: Manpreet Romana/AFP/Getty Images


What do you think about the story?








Read what others have to say:





Number of User Comments: 1








Sub: find some other way

plz find some other way for expressing ur disagreement ..not by going on stikes & making innocent people suffer .. u r doctors ,,u choose ...


Posted by uzma






Disclaimer