Home > News > Report

Unprecedented tourist flow in J&K in '05: Azad


Syed Amin Jafri in Hyderabad | January 08, 2006 17:04 IST
Last Updated: January 08, 2006 23:05 IST



Jammu & Kashmir has witnessed unprecedented tourist traffic in 2005, state Chief Minister Ghulam Nabi Azad said on Sunday.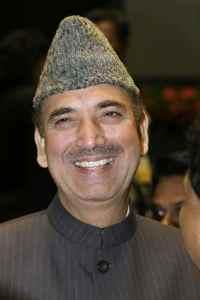 Addressing an interactive session at the 4th Pravasi Bharatiya Divas 2006 in Hyderabad, Azad said a million tourists, including 400,000 pilgrims toured Amarnath shrine, visited Kashmir last year. Another 6.3 million pilgrims toured the Vaishno Devi Shrine in Jammu.
Complete Coverage: Pravasi Bharatiya Divas
About 19,000 foreign tourists visited Kashmir last year, he said, adding that another 22,000 foreign tourists toured Ladakh last year.

Referring to the tremendous opportunities for investment in tourism sector in J&K, the chief minister said Kashmir was also emerging as a hub of human resource development in the tourism sector.
Three major national institutions were also being upgraded at an investment of Rs 130 million. These institutions are recognized as centres of excellence for providing training in hotel management, skiing and mountaineering.

Recently, Prime Minister Manmohan Singh announced a package of Rs 2.4 billion as financial assistance to 12 development authorities that have been set up by the state government for the promotion of tourism, he said, adding that the centre had recently approved assistance of Rs three billion for the Dal Lake Development Programme. This investment would restore the pristine glory of the world famous Dal Lake.

"The state is seeking investments in hotels, resorts, adventure and leisure sports, amusement parks, golf courses and ropeways. We have commissioned one of the highest state-of-the-art gondola cable car systems in the world at Gulmarg last year. It can take a tourist 8,900 feet above sea level to 13,500 feet above sea level in approximately 20 minutes. It is a 5-km long system constructed by Pomagalski of France but we need more investments in this kind of infrastructure," he added.
Photograph: Jewella C Miranda