Home > News > Report

Modi-Deshmukh spat at Pravasi Bharatiya Divas

Syed Amin Jafri in Hyderabad | January 08, 2006 15:06 IST
Last Updated: January 08, 2006 23:03 IST



Maharashtra and Gujarat have been vying for investments for more than two decades but their intense rivalry between came out into the open on day two of the Pravasi Bharatiya Divas in Hyderabad.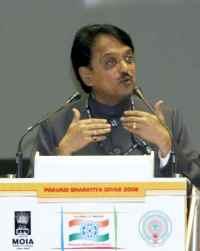 Gujarat Chief Minister Narendra Modi and Maharashtra counterpart Vilas Rao Deshmukh boasted about their respective states and had an indirect dig at each other.

It all started when Modi, in his impressive Hindi speech, recounted the rapid strides made in Gujarat in various sectors and claimed that his state had surpassed all other states. He also pointed out that the state was poised to compete with countries such as China, Japan and Germany in economic growth.
The state's industrial prowess could be gauged from the fact that as many as 11 Special Economic Zones had been approved, he said.

Describing Maharashtra as the big brother, Modi said Gujarat was formed in 1960 after the old Bombay state was bifurcated. But the state had overtaken Maharashtra in various fields.
Complete Coverage: Pravasi Bharatiya Divas
"In this company of chief ministers, I am the junior most. My experience is very limited," he quipped, pointing out that Gujarat achieved a lot during his brief tenure.   

When his turn came to speak at the interactive session attended by Modi and four other chief ministers, Vilas Rao countered his Gujarat counterpart point-by-point.
Touting Maharashtra as the Gateway of opportunities as the first destination of non-resident Indians, he said the state had always led the country's industrial growth.
"Maharashtra remained the preferred investment destination for both domestic and foreign investors, and various all-India surveys by independent agencies had adjudged Maharashtra as the best state for investment," Deshmukh observed.

"Maharashtra is becoming the economic powerhouse within the country. We have already got approvals for 11 SEZs in the state. We are developing more multi-product and product specific SEZs," he said, pointing out that two more international airports were coming up at Navi Mumbai besides an international cargo and passenger hub at Nagpur.

To another claim made by Modi, Deshmukh said that while evaluating the opportunities in the states, an investor must see whether they have fiscal discipline, good infrastructure and have enacted labour reforms.
"Maharashtra stands far ahead in these areas. Much more is to be done in labour reforms. I have been saying, let us have consensus on labour reforms. It is difficult for individual states to take decisions," he said.

"When Modi is there, anything is possible. That cannot be true with everyone else  (other CMs). I congratulate Modi because wherever good work is there, it has to be appreciated but what we can do collectively with national consensus, we can do better," Deshmukh told his rival. 
Photograph: Jewella C Miranda


What do you think about the story?








Read what others have to say:





Number of User Comments: 3








Sub: CM's presentation

the reading sounds like election time,with a difference,"please drop money in my hat".But when you land,it's your responsibility to handle the customs and face the ...


Posted by balaji cousik









Sub: Modi Deshmukh spat at BPD

A healthy competion is welcome. Whether Gujarat goes ahead of Maharashtra, the gain is for the country. The chances of Gujarat scoring over Maharashtra in ...


Posted by S.G.Shevade









Sub: Modi-Deshmukh spat

Sir, It is good to see that development is becoming THE agenda among our politicians. For a change, here are two chief ministers, talking hard ...


Posted by Sudheer






Disclaimer