Home > News > Report

Bihar's waiting for you: Nitish tells NRIs

George Iype in Hyderabad | January 08, 2006 13:11 IST
Last Updated: January 08, 2006 23:16 IST



"Bihar is investor-friendly. Come visit my state. Come invest in the new Bihar," said state Chief Minister Nitish Kumar while presenting the new face of India's poorest state to overseas Indians attending the Pravasi Bharatiya Divas.

Here was the Bihar chief minister, attending the annual conclave of non resident Indians and persons of Indian origin for the first time, trying to impress and convince them that Bihar is not a bad destination for investment after all.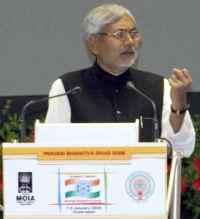 Nitish, who addressed the gathering in Hindi, said the transformation of Bihar began since the recent political change after the state assembly elections last year.

"I am here because the winds of political change have transformed governance and life in Bihar. I am here taking the dreams of millions of Biharis," the chief minister said to the constant applause of the audience.
Complete Coverage: Pravasi Bharatiya Divas 2006
Nitish is leading a high level delegation of state ministers and officials, including Deputy Chief Minister Sushil Kumar Modi for the PBD. The Bihar delegation held a parallel session with non-resident Indians of Bihari origin to showcase them the vast investment opportunities that Bihar offered these days.
Bihar's elegant pavilion at the venue drew praise from wide quarters, including Gujarat Chief Minister Narendra Modi.

"Today, it is our pavilion that is the most beautiful; tomorrow it will be Bihar that will be the most beautiful in India," the chief minister observed.
Elaborating his plans to take Bihar to the development mode, Nitish said his priority areas were industrial development, setting up professional institutions, super specialty hospitals, infrastructure like good roads, airports and bus terminals and promotion of tourism.
"We are becoming very investment friendly. Bihar is now investment friendly. Come and invest in our state," the chief minister said.
Lalu has little hope from meet
Asking NRIs and PIOs to come and partake in the development and progress that he is charting out, he said that a 900 km national highway was already being built through Bihar.
Nitish said his immediate priorities were rural development sectors like healthcare, education and water and sanitation.

"We are launching new programmes and policies better the lives of the people. We need your help in executing more people-friendly programmes," he said.
"All these years, Bihar had a bad reputation of being at the bottom of Indian states in matters such as law and order, development and per capita income, and annual GDP growth rate. Our utmost priority now is to take our status from the bottom to the top. Overseas Indians can help achieve this goal in one way or the other," he added.
Bihar to tap into its NRI base
The chief minister said he had come to invite all the NRIs gathered for the PBD in Hyderabad to Bihar.
"Come to Bihar. Bihar is waiting for you," he said.
Pointing out that Biharis were working across the country and across the world, from top position to the lowest workers, he said, "Biharis are the most hard-working people in India. They are ready to work hard and die. We have the human resources. We want to channelise our resources in the best possible manner now." 
Photograph: Jewella C Miranda


What do you think about the story?








Read what others have to say:





Number of User Comments: 3








Sub: come to bihar

God helps those who help themselves! Nitish will have to prove by example rather than precept ,that Bihar is a safe &good destination to return ...


Posted by drrkvarma









Sub: Good step by Honrable Cheif Minister of Bihar

I am personally very happy to hear that a bihar's cheif minister calling the industrialist to come to bihar . Being a bihai and a ...


Posted by PURUSHOTTAM PRASHAR









Sub: Lets hope for good now

Yes, after changing the political scenario in Bihar, Mr. CM is taking right steps to attract investors. There is a huge number of talents in ...


Posted by Bhawesh Kumar






Disclaimer