Home > News > Capital Buzz

Virendra Kapoor | February 21, 2006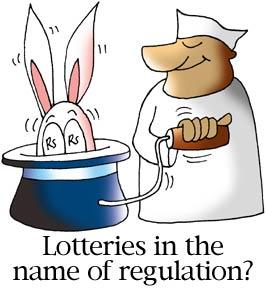 The government is, by all indications, set to give free rein yet again to the controversial lottery business.
Banned in most parts of the country during the previous regime, key members of the Manmohan Singh Cabinet are said to be in favour of 'regulating' rather than prohibiting lotteries. A bill to this effect is likely to be presented in Parliament in the near future.
However, the anti-lottery campaigners -- led by Vijay Goel, junior minister in the Atal Bihari Vajpayee government -- fear that the poor might, in the name of regulation, again be tempted to waste their meagre income on daily 'single digit' lotteries.
Available data amply demonstrates that the poor are the biggest patrons of lotteries of various types and denominations.
With there being a lot of money for organisers of various state lotteries, a couple of big players entered the field some time ago and are successfully making huge profits in the few states where the lottery is still legal.
Goel, now an all India secretary of the BJP, was himself under pressure to drop his opposition to lotteries, but he didn't succumb.
How powerful the pro-lottery lobby is can be gauged from the fact that, when a parliamentary select committee sought a public response through newspaper advertisements on the question of whether these should be banned, only six people said yes. More than 53,000 argued forcefully for permitting lotteries.
It is another matter that the text of those 53,000-odd respondents was almost identical. Incidentally, of the six who made a case for an outright ban, Goel was one.
Who's afraid of the governor?
You have to grant this to the burra sahebs who manage the capital's Gymkhana Club. They are not overawed by VVIPs. If they were, they wouldn't have listed the name of Karnataka Governor T N Chaturvedi, among other defaulters, and put it on a notice board for all and sundry to see.
Chaturvedi, a former Comptroller and Auditor General of India, apparently owes the club over Rs 8,000 in unpaid dues. As per club rules, when the payment was not forthcoming, his name was added to the list of defaulters and displayed. Mess and bar services automatically stood withdrawn until the pending bill was cleared.
Lone inspector for New Delhi Municipal Committee

Believe it or not, there is just one electric meter inspector in the entire area covered by the New Delhi Municipal Committee. And he doesn't have the technical wherewithal to detect slippage in old meters and calibrate them as per criteria set down by the electricity regulatory authority.
The fact emerged when a senior secretary to the government took up what he suspected was a case of excessive billing by the NDMC electricity department. The inspector didn't have the tools to detect the cause for the fast-running meter, nor did he have a clue of how to enumerate the extent to which it was running fast so that due correction could be made in past bills.
Politically savvy PM
Prime Minister Manmohan Singh is learning fast on the job. The other day, when Vaiko informed him of his decision to leave the DMK-led alliance in Tamil Nadu, Singh came across as wholly unperturbed.
When told that the Manumalarchi Dravida Munnetra Kazhagam would henceforth oppose the M Karunanidhi-led alliance in Tamil Nadu, though the party's four Lok Sabha members would continue to support the central government, Dr Singh thanked Vaiko. In the same breath, he went on to add that he was now quite used to such contradictions.
'After all, in Bihar, Lalu Yadav's Rashtriya Janata Dal and Ram Vilas Paswan's Lok Jana Shakti party are bitterly opposed to each other, but both support my government in Delhi,' he said.
Vaiko may still team up with the Tamil Nadu Chief Minister J Jayalalithaa-led AIADMK alliance for contesting the forthcoming election to the state assembly this summer. The DMK, he alleges, has consistently sought to marginalise him while using the clout of its central ministers and the Karunanidhi family-owned Sun TV to promote the DMK leader's son and heir apparent, M K Stalin.
A high-flier grounded

The lone Indian Foreign Service diplomat in the petroleum ministry, Talmiz Ahmed, was grounded after his patron Mani Shankar Aiyar was replaced by Murli Deora as petroleum minister in the recent Cabinet reshuffle.
Ahmad, who logged tens of thousands of flying miles while working with Aiyar, had his scheduled foreign tour nixed at the last moment after the change of guard. The secretary, petroleum ministry, replaced Ahmad by a joint secretary-level IAS officer for the same foreign tour.
Admittedly, the initiative for making the switch had come from a top babu in the ministry. Senior babus had been smarting over the IFS officer, given his proximity to Aiyar, also a former IFS man.
Boom for some, bust for others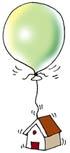 The real estate boom has had an unforeseen effect. Defaulting small and medium-level businesses, unable to service their bank loans, are themselves availing of the opportunity to sell off their land and buildings in order to clear off their dues rather than face stiff recovery proceedings and have their securities auctioned off by designated agencies.
The above fact came to light when a couple of private agencies that had been outsourced the job of auctioning properties kept as security against bank loans found a marked slowdown in debt recovery proceedings.
With property prices going sky-high, defaulters saw a percentage in liquidating their real estate assets pledged against bank loans. After paying off institutional creditors, they still had some cash to spare. Understandably, this has hurt the business of dedicated firms of auctioneers appointed by banks.
Dwivedi for Soni's old job
Who will fill the slot at the Congress headquarters vacated by Ambika Soni's recent induction into the Union Cabinet? By all accounts, Sonia Gandhi's Hindi speech writer, Janardhan Dwivedi, has emerged as the front-runner to occupy the room at 24 Akbar Road. Besides being a senior general secretary of the party, Soni was also head of its media cell.
A low-key man in sharp contrast to the high-profile Soni, Dwivedi has an added reason to get the nod for the all-important job of chairing the media cell. He has a personal rapport with a large number of media persons. Besides, he knows the party boss's mind and enjoys her complete trust. Also, Sonia Gandhi's political secretary Ahmad Patel does not see a threat in him. Patel and Soni were considered rivals, perennially engaged in upstaging each other in order to get close to the Congress boss.
Illustrations: Uttam Ghosh
Capital Buzz


What do you think about the story?








Read what others have to say:





Number of User Comments: 8








Sub: Lotteries in the name of regulation?

Part 7 of 7 : 9. Perhaps no agency should be allowed to organise a poll unless they are licensed by government. One criteria that ...


Posted by Ajay Suri, General Secretary AIFLTAI









Sub: Lotteries in the name of regulation?

Part 6 of 7 : 7. Mr Goel of the BJP would render great service to the public by revealing the pressures alluded to by ...


Posted by Ajay Suri, General Secretary AIFLTAI









Sub: Lotteries in the name of regulation?

Part 5 of 7 5. contd.. However what is lacking in present regulations covering state lotteries is mandating of percentage amount that must be put ...


Posted by Ajay Suri, General Secretary AIFLTAI









Sub: Lotteries in the name of regulation?

Part 4 of 7 4. Regarding the 'fear that the poor might, again be tempted to waste their meagre income on daily 'single digit' lotteries': ...


Posted by Ajay Suri, General Secretary AIFLTAI









Sub: Lotteries in the name of regulation?

Part 3 of 7 2. With emphasis on generating employment given by the President of India and now "Rojgar Bhadao" being adopted as a policy ...


Posted by Ajay Suri, General Secretary AIFLTAI






Disclaimer