Home > News > Specials

The Rediff Special/ Tejinder Sodhi in Baramulla

Caught between fate and borders

February 12, 2006



For 35-year-old Kapoor Jaan, marrying on the Indian side of Kashmir turned out to be a disaster twice as she ended up spending almost half her life in Indian jails.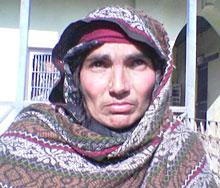 Kapoor Jaan, a resident of village Bandi-Awaspur in the Bagh district of Pakistan Occupied Kashmir, was married off as a minor to one Javid. However, Javid and his family soon left her and migrated to PoK without intimating her.
Upon realizing that her family had migrated to PoK, she too decided to cross the Line of Control from Uri. But the Indian Army nabbed her while she was attempting to do so.
"As I was alone, I also decided to go back to my parents and search for my husband there. But while I was crossing the Line of Control, I was caught by the Indian Army."
The Army handed her over to the local police, which filed a case against her.
"I was found guilty of illegally crossing the LoC and was sentenced to prison. I was a minor at that time and do not remember for how long I was in jail," she says, adding that after her jail term was over, the police had been instructed to make arrangements for her return.
The local police in Uri handed her over to the Pakistan army, which sent her back to her father's house in Bandi-Awaspur. She tried in vain to trace her husband and his family. "My family tried to find him as well but we could not trace him," she adds.
Kapoor Jaan's story took another twist in 2003 when a Yaqoob Mir of Lal ka Ban area in Uri approached her father Pathan Abdul Aziz, seeking to marry her. Yaqoob, according to Kapoor Jaan, was a frequent visitor to their house in PoK as he had good relations with her father.
Separated families can now cross LoC
"My father agreed and two years ago I was married to Yaqoob as per the local traditions," she says, "More than 30 people, including Yaqoob, had crossed the LoC illegally."
When the newly wed Kapoor Jaan was brought back to her husband's house in Uri, she was shocked to find that she was Yaqoob's second wife and that he was a father of six daughters and a son. Two of his daughters were already married.
Submitting before destiny she took it all as Allah's wish and decided to lead the rest of her life with Yaqoob. However, as fate would have it, relations between them soon turned sour.
"After a year, everything changed suddenly. My husband started beating me up everyday. Even his children used to beat me," narrates Kapoor Jaan, adding that she was often charged with stealing and selling household items.
Kutbal excavation: Bureaucracy interrupts history
When the torture crossed her tolerance level, Kapoor Jaan decided to go back to her parents. This time she succeeded in crossing the LoC. "I crossed the LoC and went back to my father's house. But my brother objected to my decision to leave my husband and asked me to go back or else he would shoot me. My brother was in the Pakistan Army."
Finally, she decided to return to her husband. But Kapoor Jaan's luck ran out again as she tried to traverse the LOC illegally. She was caught by the Indian army and was handed over to Jammu and Kashmir police. Kapoor Jaan was produced in court and later sentenced for six months.
Has the peace process forgotten the Pandits?
Now her second term in jail is over. But she has nowhere to go, nobody to help her, nobody to send her home. The reason – she does not want to go back to her husband Yaqoob.
"He did not bother to fight the case for me, nor did he turn up to meet me during my jail term. I want to go back to Pakistan and live with my parents," she says.
Complete Coverage: Terror from the Earth
Though unaware of the fate of her parents in the devastating quake that struck PoK on October 8, 2005, Kapoor Jaan is determined to go back. "I do not know what may have happened to them. I do not know if they are still alive or not. But I still want to go back to Pakistan," she says, "I do not worry about my brothers now. If they object, I will make a small wooden hut and spend the rest of my life there. But I cannot live with a man who does not care about me."
The Rediff Specials


What do you think about the story?








Read what others have to say:





Number of User Comments: 5








Sub: bad luck

A very good effort of the reporter to bring out the pathatic condition faced by the people living (read Divided)by the line of control. Why ...


Posted by Irfan









Sub: help her

what may be it is,some non government or government social organisation should help her to return to pakistan


Posted by jagadeep kumar









Sub: my opinion

I was really sad after reding the story of kapoor jann, i opinon is that she should have been sent to her father in pakistan, ...


Posted by Abhijeet v. Gawde









Sub: Caught between fate and borders

This is a sad story. Not new, and will keep repeating again and again, unless the laws are changed. This is a plea to all ...


Posted by doubt everything









Sub: feedback

loc is for those who lives in fear but not for those who have some goal. Kapoor jaan is still fighting with her luck. ...


Posted by amir karim






Disclaimer