Home > News > First Look


An ageing tiger roars again

December 28, 2006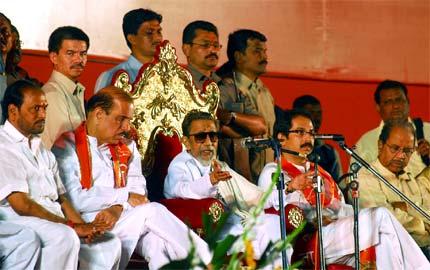 The race for India's largest civic body has begun.Elections for the Brihanmumbai Municipal Corporation will be held in February.
Shiv Sena chief Bal Thackeray addressed a meeting of the party's elected representatives and senior activists at Goregaon. The ageing leader had gone into semi-retirement and is rarely seen at public events recently.
It is prestigious and politically important battle as the BMC has an annual budget of Rs.8,000 crore, apart from Rs.5,000 crore budget for its undertaking the Bombay Electric Supply & Transport. It is bigger than those of many Indian states.
Major parties including the ruling Congress and its ally the Nationalist Congress Party, Shiv Sena and Bharatiya Janata Party, different Republican Party of India (RPI) factions and the nascent Maharashtra Navnirman Sena of Raj Thackeray are taking the polls very seriously.
The BMC has been a bastion of Shiv Sena and BJP alliance for past 15 years and the Congress-NCP alliance, which rules the state, is trying to dent this.
The stage was set last Saturday with Congress president Sonia Gandhi addressing a rally at Mumbai's Shivaji Park, considered a Sena citadel.
Photograph: Arun Patil