Home > News > First Look


Sonia kicks off Congress campaign

December 23, 2006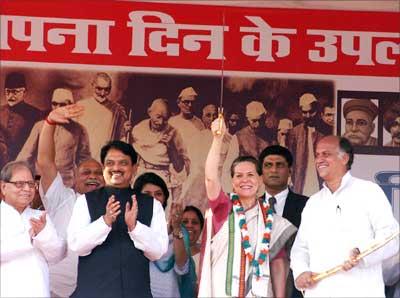 Congress president and United Progressive Alliance chairperson Sonia Gandhi at a rally at Mumbai's Shivaji park on Saturday.
Seen with her are Maharashtra Chief Minister Vilasrao Deshmukh and Mumbai Congress chief Gurudas Kamat.
Launching the Congress campiagn for Mumbai Municipal elections in February, Sonia said the UPA was committed to make Mumbai a world class city.
"We have cleared 13 project and the city will get more help from the Centre," she said.
On the Dalit killings in Khairlanji, the Congress president said, "Everyone is ashamed over the incident and the culprits will be brought to book."
Others accompanying Sonia are Union Home Minister Shivraj Patil and Union Minority Affairs Minister A R Antulay.
Photograph: Arun Patil
Text: PTI


What do you think about the story?








Read what others have to say:





Number of User Comments: 2








Sub: Congress (I) campaign

Mumbai electorate should not elect Congress topower in BMC. UPA coaltion, in which Congress is the main partner, has done nothing to Mumbaites. The last ...


Posted by T.P. Viswanathan









Sub: Keep the Good work up !!

Soniaji, All the best for your party.Keep the good work up.I appreciate the stability given by the UPA Government.


Posted by Phil






Disclaimer