Home > News > First Look


PM visits the Golden Temple

December 20, 2006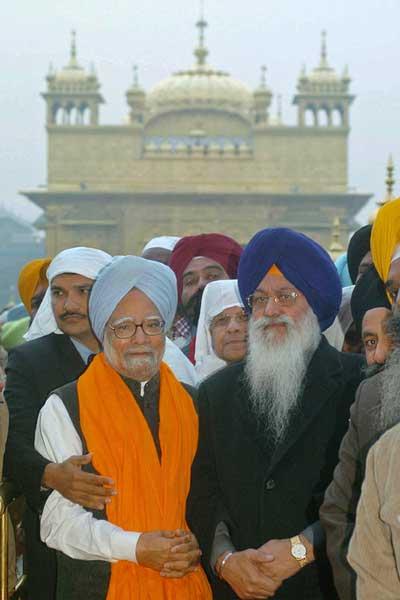 Prime Minister Manmohan Singh on Wednesday visited the Golden Temple, the holiest Sikh shrine, amid tight security; he prayed for peace and prosperity of the nation.
Dr Singh is on a two-day visit to Punjab during which he will launch some major development projects in his home state, which is due to go to polls early next year.
The prime minister arrived at the shrine at 0715 hrs and stayed for half an hour.
After bowing his head in front of the holy Guru Granth Sahib in the Harmandir Sahib, the sanctum sanctorum, Dr Singh listened to kirtans. Shiromani Gurdwara Parbandhak Committee president Avtar Singh Makkar sat alongside him.
Punjab Chief Minister Captain Amarinder Singh, some of his cabinet colleagues and his wife Parneet Kaur also paid obeisance along with Dr Singh.
After the visit to the sanctum sanctorum, the prime minister was honoured with the siropa by Giani Gurbachan Singh, head granthi of the Golden Temple.
Later, Dr Singh was presented with siropa and a replica of the Golden Temple by the SGPC chief.

Photo Credit: Narinder Nanu/ AFP/ Getty Images