Home > News > First Look


The state of India's democracy

December 01, 2006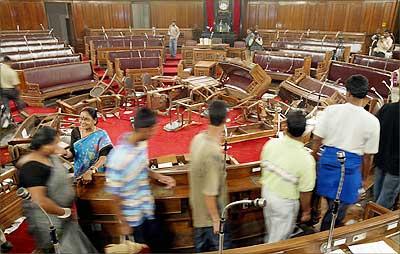 Visitors look at damage to the West Bengal Assembly in Kolkata, December 1, after Trinamool Congress Party  members went on the rampage November 30.
TMC activists called a strike in West Bengal to protest a government decision to hand over farmland to Indian carmaker Tata Motors to build a plant where production is due to begin next year. A few thousand Trinamool supporters took to the streets and tried to block traffic and shut down shops. Around 200 political workers were arrested for stopping traffic.
Thousands of people including school children queued up to have a glimpse of the vandalised West Bengal assembly as the House chamber was thrown open to the public for the first time to enable the public to see the damage caused during the rampage.
Despite a 12-hour bandh called by the Trinamool Congress, thousands queued up at the main gate of the assembly as security staff let them in after thorough checks. Broken furniture, wrenched microphones, torn business papers, ransacked records and rule books lay strewn all over the House chamber and the lobby -- which were encircled by ropes -- highlighting the vandalisation of the premises during Thursday's session.
Police, accompanied by Marshals and watch and ward staff, guided the public to move around and see the damage caused by Trinamool Congress legislators after party chief Mamata Banerjee stormed into the premises after she was stopped by police from going to Singur to campaign against the Tata Motors' project there.
Assembly sources said the House would be kept open for the public from 10 am to 4 pm for three days. The assembly is a protected place and only those with passes can enter the House to witness proceedings from the public gallery with the Speaker's permission.
Photograph: Deshkalyan Chowdhury/AFP/Getty Images


What do you think about the story?








Read what others have to say:





Number of User Comments: 14








Sub: State of India's Democracy.

This incident, should turn out to be an awakening to the general public, of whom they have elected. How can such incident be encouraged while ...


Posted by Dr.Chandran Peechulli









Sub: DEMOCRACY MEANS TO DO THE THINGS IN DEMOCRATIC WAY!!!

Indian Democracy is matured, but our elected members doesn't know how to rule a country in a democratic way. It means, Indian Politicans are immatured ...


Posted by rcpillai









Sub: ashamed to be from bengal

This only proves Mamata Banerjee is a poor loser. She is trying to hide her defeat by resorting to such atrocious acts of violence. I ...


Posted by ss









Sub: Not surprising

Politics (In India) is the last resort of scoundrels.


Posted by Rao









Sub: The State of India's Democracy

While protest is legitimate in a democracy, vandalism is not. If it is done by members of the elected community who are in fact supposed ...


Posted by Dhiren






Disclaimer