Home > News > First Look


Image: PCOs on BEST buses

August 28, 2006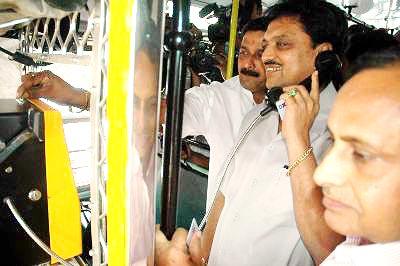 Maharashtra Chief Minister Vilasrao Deshmukh on Monday activated a public telephone system on Mumbai's city buses.
Passengers can now make calls from these telephones installed on the BEST buses.
Apart from the telephones, the buses will now sport closed circuit cameras for extra security.
Also, a new automated fare collection system has been activated.
All that the passenger has to do is to hold the 'smart card' in front of a reader on the bus and the reader will deduct the fare.
Photograph: Arun Patil


What do you think about the story?








Read what others have to say:





Number of User Comments: 6








Sub: good!!! start

Very very happy to know the recent developements. This was a long over due for city like mumbai. Should have better infrastructure, transport system, help ...


Posted by venkat iyer









Sub: nothing great!

nothing great in making these show-ups! These kind of facilities are already "well functioning" and "properly maintained" in many countries. Let us hope to see ...


Posted by brama









Sub: reply

What is the cheap publicity about, for while a lot of people are living in chawls ;our leaders go about setting up gimmics like buses ...


Posted by acharya









Sub: using smart cards in BEST buses

The idea is good. Is it applicable to our rural folk who are in large numbers. How can they have smart card with their least ...


Posted by m.gurumurthy









Sub: A Good Begining

It is heartning to know the facilities aailable to the common man.Probably Maharashtra will be known as one of the first states to invest in ...


Posted by Col(Retd)BNN Rao






Disclaimer