Home > News > First Look


Will you dine at Hitler's Cross?

August 23, 2006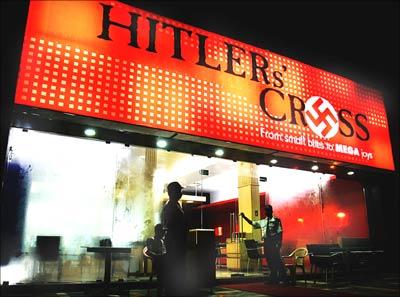 A restaurant on the outskirts of Mumbai is creating controversy.
The newly-opened hotel, curiously named Hitler's Cross, has offended India's small population of Jews and the Israeli consul in Mumbai.
The story was picked up around the world and by blogging sites after the new agency Reuters reported on the restaurant.
The restaurant is located at Kharghar just off the Mumbai-Pune highway in Mumbai's satellite township of Navi Mumbai.
However, the restaurant owner Punit Shablok is adamant that he won't change the name. "I have registered the name and will not change it. There are hundreds of other businesses around the world registered in Hitler's name. Why this fuss about my restaurant? I am tired of giving interviews to the press all day," he says.
He also says that his emblem isn't exactly like Hitler's swastika. "Mine is red on white and Hitler's had it in black".
However in difference to the hullabaloo over the name, he has taken down a picture of the German dictator from the premises.
Text and photograph: Uttam Ghosh


What do you think about the story?








Read what others have to say:





Number of User Comments: 35








Sub: Will U dine at Hitler's cross

NEVER. It is not the question of what Israel or US doing. Two wrongs do not make a right. One can not justify giving acceptibility ...


Posted by Shailesh









Sub: hitler

I dont care abt the restaurant. But it really brings to sharp focus the hypocrisy and double standards prevalent in today's world. Please Google up ...


Posted by infidel









Sub: why do the Nazis have to apologize while colonialists don't

I will support anti-nazism the day the world makes the colonialists pay for their sins. until then, both are same. it's really stupid of indians ...


Posted by Observer from Above









Sub: Will you dine at Hitler's Cross?

Swastica or Fylfot would be a better choice instead of "cross". The jews of Israel dont care for UN resolution and bomb Lebanon and decimate ...


Posted by K.Ramesh









Sub: hitler cross cafe

i would like to have a coffee in that hotel. why this big fuss on name. in present time israel is behaving same as hitler, ...


Posted by AKKAS ALI






Disclaimer