Home > News > First Look


'I am positive about life. Others have lost more'

August 17, 2006



More than a month after Terror Tuesday, we meet some of the survivors.

An ongoing series: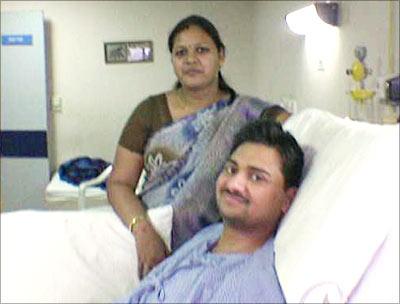 Taking a bus, train and autorickshaw to work was a daily routine for Swadhim Padia, a 28-year-old chartered accountant, but today he is unsure when he will be able to do it again.
As he lies on his bed at Mumbai's Leelavati Hospital he wonders if he will he be able to walk again after suffering serious injuries in the July 11 train blasts that killed 200 people.
"I had multiple injuries on the lower portion of my body. I am now unable to walk even with crutches. The doctors have told me by next week I will be able to go home and I may be able to walk. I am hopeful at this moment," says Swadhim.
On July 10, Swadhim and his wife Rajshree celebrated their third wedding anniversary. The duo visited a shopping mall and went out for dinner and had a great time, little realising that their lives would change forever the next day.
Swadhim was not supposed to be ib that ill-fated train but a little delay at work meant he boarded it. "I think it was my destiny to be on that train," he says.
After leaving his office in suburban Andheri, he did not wait for a bus as usual and took an autorickshaw.
When he reached the station he found out that the Virar-bound train was running late by ten minutes. Once on the train, he preferred stay near the door instead of going into the compartment as the train was crowded.
Around 6.30 pm, the train was just pulling into Bhayandar railway station in north Mumbai. Swadhim does not know what happened but he fell from the train.
"Since I was hanging out I didn't hear the blast. The only thing I remember is that I lost control and fell to the ground. The lower part of my body was bleeding and I was paralysed. I could not move," he recalls.
He immediately called his wife Rajshree on his mobile phone to inform her that he had fallen out of the train and was injured. He did not mention the blast as was unaware of it. Rajshree felt that since they had a late night party the previous day he must have fallen from the train because of lack of sleep and tiredness.
She immediately rushed out of their Bhayandar home to try and reach Swadhim. It was in the auto that she realised that there had been a blast on the train. Frantically she tried to call Swadhim but all mobile networks were jammed. Even the road leading to the railway station was blocked so Rajshree decided to walk down two kilometers along the railway track to reach the blast site. She found that Swadhim was not there.
"The locals had shifted all the injured and dead to different hospitals. My feet were trembling and there was no way I could know whether he was alive or dead. Those hours were the worst time of my life," recalls Rajshree.
With great difficulty she managed to reach the Bhakti Vedanta hospital (the biggest hospital in that area) but Swadhim was not there either.
She then searched all the hospitals in the area, and finally discovered that Swadhim was admitted to Dr Fareed's Hospital in neighbouring Mira Road.
"I could not control my tears of relief as I found him on the injured list and not the dead list," says Rajshree.
Since then, for more than a month Rajshree has been helping her husband recuperate. She is confident that life will return to normal but knows it will take time.
She is thankful to all government authorities, especially Indian Railways, because they were very helpful and disbursed money to pay all the hospital bills.
Asked how he feels now, Swadhim says, "I am positive about life. When I see others who have lost their dear ones, I feel very sad for them. My pain is small compared to those who have lost their loved ones."
Text and Photograph: Syed Firdaus Ashraf
More in this series:
'He is positive but sadness is there'
'My taqdeer was bad. But my taqdeer was also good'
'I'll take the same train and sit in the same compartment'
'Why does this always happen to the common man?'


What do you think about the story?








Read what others have to say:





Number of User Comments: 2








Sub: Swadhin says :

"I am positive about life. When I see others who have lost their dear ones, I feel very sad for them. My pain is small ...


Posted by Dr. Cajetan Coelho









Sub: Amazing

I wish more people had such positive attitudes in life but it was heartening and moving to read about such brave people, who can still ...


Posted by Amit






Disclaimer