Home > News > Specials

The Rediff Special/ Vaihayasi P Daniel

Memories, wounds trouble 1993 blasts victim

August 11, 2006

August 10 was an especially busy day for Kirti Ajmera, a distributor for Modicare home products.

His cell phone has not stopped buzzing from the morning. He set out from his home in Malad, northwest Mumbai, in the morning for Dalal Street, which houses the Bombay Stock Exchange, at the other end of town. And his day was to end at the Channel 7 television studio at Kamala Mills Compound, Parel.

He has done interview after interview against the backdrop of Dalal Street. Among the survivors of the March 12, 1993 Mumbai serial blasts, Ajmera is unique -- for he had another providential escape on July 11 this year, when seven blasts went off aboard the city's local trains.

Ajmera cannot even count how many times he has been interviewed over the past 13 years.

Reporters -- from television channels, national newspapers, local newspapers, media establishments abroad -- seek him out every year on March 12. In between too. On 9/11 and now, 7/11. And every time there is a new development on the 1993 Mumbai bomb blasts case.

Ajmera takes it all in his stride. The 49-year-old former bank employee -- who only just missed death 13 years ago, when the bomb went off just as he was about to enter the Bombay Stock Exchange -- has a rather philosophical, stoical approach to life.

He says he has missed his tryst with death four times.

"Somebody does not want me to go up. Perhaps there is Big Good Work he needs me to do, from my hand before I can go up. Otherwise, why would I have been saved so many times?"

On July 11, the day of Mumbai's serial train blasts, Ajmera was standing on the railway platform at Khar station, northwest Mumbai. He was hoping to take the 6.21 pm local train to Borivali. But the train that pulled in was packed and Ajmera let it go. A few minutes later it jerked to a halt outside the station as a bomb went off.

"Were you planning to board the first class men's compartment?" this reporter asked since all the seven blasts that day targeted that compartment.

"Yes," says Ajmera with a strange, calm smile. "I understood then that I was lucky again."

His brush with death in March 13 years ago was much more harrowing.

He came around, that day, for just a few hazy moments, after the explosion had ripped the front of the stock exchange, on a street scattered with bodies and blood. His right arm was hanging by a skinny strip of tissue. Each of his ribs had been broken by a large shard of glass that had punctured his lungs, when glass rained down on him from above. His ear was hanging lop-sided and glass splinters had chewed a path up the right side of his face.

Those few moments were lucid ones for Ajmera despite their life-altering nature.

He grasped he had just escaped death and knew that he wanted to live. "I was able to understand that there had been a blast and that I would also die there if I did not move quickly. Everyone was afraid the building was going to fall."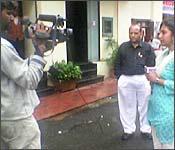 He was put in a taxi and rushed to the Gokuldas Tejpal Hospital near Crawford Market, south Mumbai. There was no bed for him at the hospital that was frantically coping with victims from two south Mumbai blast sites -- the other was the Air-India building in Nariman Point. But a bed got vacated a short while later -- another moment of providence -- when a blast victim died. Surgeons and doctors then set to work and pieced him together.
Ajmera, who has been in and out of hospitals for more than a decade, has spent more than Rs 18 lakhs (Rs 1.8 million) on his treatment. He discovered that he was susceptible to keloids, that causes the overgrowth of scar tissue that can cause skin cancer, and he bears enormous, disfiguring scars on his arms, his back, his ribs and behind his ear.
Surprisingly, his injured right cheek is smooth and totally scarless. He explains that when he was at GT Hospital a foreign doctor, probably a plastic surgeon who volunteered to work in Mumbai after the blasts, set his cheek right.
The surgeon asked if he could conduct a surgery involving a special technique of operating from inside the mouth, without anaesthesia, because Ajmera was not stable enough to do surgery under general anaesthesia. Ajmera reasoned that since more than 70 per cent of his body was already burning with pain what did it matter if the surgeon inflicted a little more pain on his cheek and readily agreed to further surgery.
"I can recollect all the details from that day. But there are two things I just cannot remember. I cannot recollect the taxi man who took me to hospital. I don't know why I don't remember him. Nor the surgeon who operated on my cheek. At GT Hospital they have no idea who he was. He was not even registered..."
With a pause he adds, quietly, "I feel they both came from God."
A devout Jain, originally from Bhavnagar, Gujarat, who prays daily and believes his religion brought him through his darkest moments, Ajmera says. "Our religion teaches us that your soul is your own and never dies, but your body is not. Because your body is not yours it will not feel pain. Jainism teaches us to think positive. Today you may not understand why something negative is happening in your life but that is because you will feel the good side of that later."
Thirteen years after March 12, 1993, this businessman struggles to cope with his blast-inflicted wounds. He has very limited use of his right arm. Occasionally it can be used to pick up light items. When he laughs his chest hurts and his grin often paralyzes into an ugly grimace. But what bothers him most is the 40 to 50 pieces of glass, that once belonged to the windows of the stock exchange, still in his body.
He needs to have them removed. But because of the likelihood of keloids he is scared to get it done. He is seeking additional help from a good surgeon abroad as well as financial assistance for the operation.
For Ajmera the verdict on the 1993 blasts case, that was meant to come in on Thursday but was postponed by a month, is meaningless. He says he wore a black shirt on Thursday in protest. "It is of no use. Delayed justice is denied justice."
His anger is directed at the government. India, he says, lives day in and day out with "invisible dons of crime" in politics. "If you catch the men who gave birth to (gangsters like) Abu Salem then new Abu Salems will not be born. Kill the birth givers."
These "invisible dons", he says are the ones who, for instance, allowed an illegal building like the one owned by gangster Dawood Ibrahim at Crawford Market, that was recently demolished, to come up in the first place.
"Where were they (the authorities) when the building was being built, when the building was allowed to come up?" he asks. "Who will compensate the shopkeepers who are poor people like us?"
The government, he feels, still has no clear directives in place on how to deal with disaster situations. "There is no disaster management and still no adequate security. I have been saying from 1993 that these blasts will go on repeating themselves."
Ajmera believes that security must be conducted through machines and not by the police or others, who could be bribed or persuaded to look the other way. Close circuit television sets, robots and other machines to tighten security must be put in place, he adds.
He says he has not received a paisa as compensation from the government.
The compensation that was dispersed immediately after the 1993 blasts did not reach Ajmera because he was recuperating at the GT Hospital for two months. Struggling with medical bills has not been easy with a wife to support and two children -- Rushabh and Ami -- to bring up. His children were seven and eight years old at the time of the 1993 blasts.
"I was handicapped with this (points to his wounds)," he says sadly. "I was not able to give them a better life or a better education then and I am still not able to."
Photographs: Vaihayasi P Daniel
The Rediff Specials


What do you think about the story?








Read what others have to say:





Number of User Comments: 4








Sub: Forward this to OUR SAVIOUR Govt.

What else can we say but lament. There is no accountablity to any one who governs whatever party they belong. We need a wholesale change ...


Posted by Sundararaman









Sub: unhealed wounds

This is exactly where the State and Central government\\\'s accountability has to be demanded. When such disasters happen abroad, immediately the police are sent to ...


Posted by nadia sani









Sub: unhealed wounds, 13 years on

Oh God, We must admire Mr. Ajmera for his Zealous approach towards life. He rightly said the authorities, the government should be blamed before anybody ...


Posted by sh









Sub: RE: Unhealed Wounds, 13 years on

India is a Democratic Country! If you have money and power along with political support, you can survive murders of thousands of innocent people! But ...


Posted by Viraj Ashok Raje






Disclaimer