Home > News > First Look


Sanjay Dutt's day in court

August 10, 2006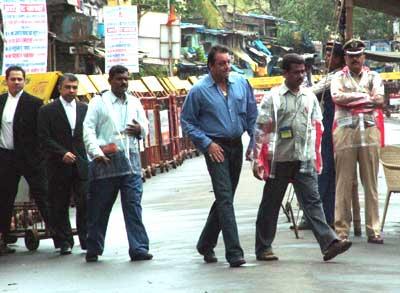 Terrorists and Disruptive Activities (Prevention) Act Court judge Pramod Kode, on Thursday, put off the keenly-awaited verdict in the 1993 Mumbai serial blasts case to September 12.
Judge Kode, who has presided over the case for more than 10 years, had announced that he would deliver the verdict on Thursday. Accordingly, all the 94 accused who were out on bail, including actor Sanjay Dutt (left), and the 29 persons in custody had been summoned to the court, located inside Arthur Road jail premises in central Mumbai.
Dutt found himself in the dock after he allegedly accepted an AK-56 rifle from gangster Abu Salem.
The court will have to consider the testimony of 686 witnesses in over 13,000 pages of evidence tendered by them.
However, Special Public Prosecutor Ujjwal Nikam countered the argument, pointing out that since the High Court had not granted any stay on the matter, the court was free to proceed with the delivery of judgement.
The judge then said he would pronounce the final verdict in the case on September 12.
Photograph: Arun Patil
Complete coverage: 1993 Mumbai blasts: The verdict


What do you think about the story?








Read what others have to say:





Number of User Comments: 3








Sub: Media reported he brought in his duplicate.

Let us hope that it would be he himself who serves whatever is served to him by the Court. And not the duplicate.


Posted by chanakya









Sub: India awaits for another month

Why???? why was the verdict postponed to Sept. 12th? Isn't 13 years a long wait? What is the reason behind pushing this back again? This ...


Posted by Vinay









Sub: Verdict on 1993 bomb blast case

Sab natak hai, kisi ko kuch nahi hoga, India ka kuch nahi honewala, yahi chalta raha hain or rahega. Hopeless country.


Posted by shane






Disclaimer