Home > News > First Look


Flood havoc in Gujarat

August 09, 2006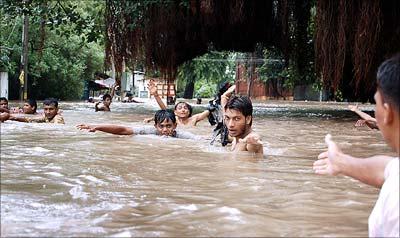 Villagers form a human chain to help people cross a swollen river in Kalali, some 20 kms from Vadodara on Wednesday.
More than 750,000 people have been left homeless across four flooded states, as the death toll linked to floods in the past week rose to 187.
The flood situation in Surat is likely to worsen, due to high tide in the Gulf of Khambhat.
Photo: AFP/Getty Images
Also see:
Large areas of Surat flooded by Tapti
Flood situation grim in AP, Gujarat


What do you think about the story?








Read what others have to say:





Number of User Comments: 2








Sub: Where is the BJP Government

We have notice this BJP party only during the violence but never ever to help the people


Posted by Nadeem C









Sub: Blame Modi Please

NDTV yesterday as ususal blaimed Mr. Nodi for everything. Will they ever learn?


Posted by vikas






Disclaimer