Home > News > Report

Messages to Mumbai, from Vancouver

Ajit Jain in Toronto | August 08, 2006 16:53 IST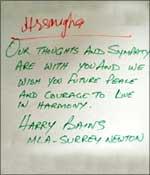 In the aftermath of the serial blasts on Mumbai's trains on July 7, Vancouver-based ethnic radio station, Red FM, put up three posters in their office this week for people to sign with their condolences for the victims' families.
Zile Singh, the Indian Deputy Consul-General in Vancouver, told rediff.com, "People from all walks of life, including local politicians, turned up to sign these posters. In all, there were 357 signatories."
Red FM spokesman Kulbir Multani told this reporter the response was phenomenal and several people came to sign the posters, which will be sent to the mayor of Mumbai to be displayed at railway stations or any other venues of his choice.
New Democratic Party Member of Parliament Penny Priddy wrote on the poster - 'No group, no religion, no value system allows us to harm innocent children and their families. When we kill children, we kill our future.'  Addressing  the victims, she wrote, 'You are in our hearts and prayers'.
Liberal Member of British Columbia Legislature (from Surrey-Newton) Harry Bains wrote, 'Our thoughts and sympathies are with you and we wish you future peace and courage to live in harmony'.
S P Singh Mann, a member of the local Indian community, expressed his anger and disgust over the killings - 'Prime Minister Manmohan Singh, crush the terrorists with an iron fist' and dozens of people signed his message. 
'May God give courage to come out of this tragedy', wrote the Lavdeep and Aman families. 'And we pray to God to make my country India the best in the world. Long live India'.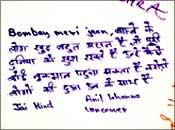 The Indian consulate-general in Vancouver is happy that 'there has been such a spontaneous outpouring of sympathy by the Indo-Canadian community for the victims. Getting people to sign the posters was a great gesture by Radio Red FM'.
Kulwinder Sanghera, president of Red FM radio, said, "Spread love, peace and respect for one another as only then will there be an end to the hatred and violence."
Addressing the victims' families, he said he was 'deeply saddened at your loss of loved ones and I pray to God that such acts of violence can be stopped in the future. Mumbai, be strong, we are always with you."


What do you think about the story?








Read what others have to say:





Number of User Comments: 1








Sub: Canadian Sympathy for Hindus blasted Dead in Mumbai

It is not late for Lalu of India to have a display of signatures/messages at every railway station in Bharat in sympathy of dead ( ...


Posted by madhani






Disclaimer