Home > News > First Look


Ganpati aale re

August 02, 2006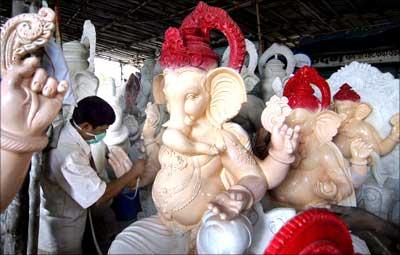 It is that time of the year again...
Just 25 days to go and Mumbai will once again welcome its favourite deity, Lord Ganesh, with plenty of dhoom-dham and pomp.
Starting from August 27 chants of Ganpati Bappa Moriya will be heard across the city.
This year city residents are probably looking forward to this festival break and the magic of Ganpati after the serial train blasts of 7/11.
In little workshops across Mumbai artisans are giving impressive-looking Ganesh idols their final touches.
Mumbai has more than 7,500 Ganpati mandals registered with the charity commissioner. These mandals are already abuzz with the job of planning a pandal theme and charting out cultural programmes etc. Wooden scaffolding for these pandals is already coming up at key areas in the metropolis.
It is nearly time to welcome the elephant-headed lord and the remover of all obstacles.
Earlier Slide show: The Ganesha Collector
Image: An idol of Ganesh gains its colour in a workshop in south Mumbai.
Photograph: Sebastian D'Souza/AFP/Getty Images


What do you think about the story?








Read what others have to say:





Number of User Comments: 1








Sub: Ganpati Bappa Morya

"GANPATI BAPPA MORYA ANI PUDHCYA VARCHI LAVKAR YA" Last year Mumbaikar People spoke this line & look Ganpati will arrive early in this month end ...


Posted by dhiraj






Disclaimer