Home > News > PTI

Wife's suicide note puts veteran actor behind bars

April 28, 2006 23:48 IST
Last Updated: April 29, 2006 01:06 IST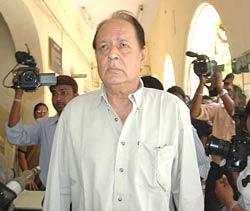 Veteran Hindi cinema actor Navin Nischol was arrested on Friday night on the charge of abetting the suicide by his wife Geetanjali last week.
Navin's brother Praveen was also arrested on the same charge, police sources said.
Geetanjali Nischol, who hung herself at her house in Mahim, central Mumbai, on Saturday night, had held Navin and his elder brother Praveen responsible for her decision to end life, the sources said.
Navin's arrest followed his questioning by police for three hours at the Mahim police station on Friday. He replied to queries about his reported strained relationship with Geetanjali over the past few months, the sources said.
Navin, they said, had also issued a notice to his wife some time back, seeking an amicable divorce.
A suicide note left by Geetanjali alleged Navin had turned alcoholic and did not heed to her requests to give up drinking. Praveen had supported his brother on the issue, the lady had said.
© Copyright 2006 PTI. All rights reserved. Republication or redistribution of PTI content, including by framing or similar means, is expressly prohibited without the prior written consent.



What do you think about the story?








Read what others have to say:





Number of User Comments: 6








Sub: Navin

This was not expected from a character of Mr. Navin.


Posted by Amit









Sub: Weird Lady

She kills herself because he drinks? And holds him responsible? why did she not divorce him instead?


Posted by sindhuja









Sub: on Navin's arrest

It is really sad incident both suicide by Mrs. Gitanjali as well as the reason. May God rest her soul in peace.I sincerely request to ...


Posted by sanjita









Sub: Navin Nischol

This is one film Navin Nischol is going to remember all his life.It took about 35 years for the Film to be released.Sad ending though.Is ...


Posted by subhash sirur









Sub: navin nischal

we cant comment any thing about this matter.Lets the polize enquire,the detail and the truth come out.


Posted by kiran patnaik






Disclaimer