Home > News > First Look


Student fury at quotas

April 26, 2006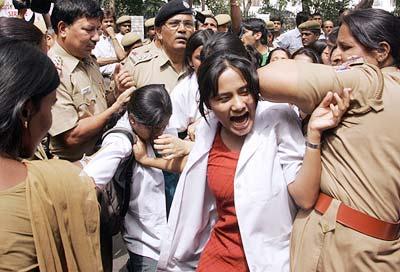 Medical students clash with police as they stage a protest against a government recommendation to make a 27.5 percent reservation for backward classes in the education sector and in government jobs, in New Delhi April 26. Hundreds of medical students protested against the Congress-led UPA government proposed move to reserve seats in elite institutions saying the proposal, if implemented, would create "quota doctors" which would have "disastrous" consequences.
The students were prevented from demonstrating outside Human Resources Development Minister Arjun Singh's residence. The protestors, who were removed by the police from Singh's 17 Akbar Road residence, later demonstrated at Jantar Mantar, raising slogans against the minister. The protestors included students from premier medical colleges including the All India Institute of Medical Sciences, Lady Hardinge Medical College and Maulana Azad Medical College.
Should there be quotas in IIMs, IITs? Tell us
Photograph: AFP/Getty Images


What do you think about the story?








Read what others have to say:





Number of User Comments: 101








Sub: protesting for their value only

i dont know how many of doc passing out of premier institutes serve poor people of rural and urban indians i think they r just ...


Posted by ashwani kumar









Sub: The manipulating politicians must know this.

They must know that gone are the days when the people passively listened to and tolerated any damned nonsense from the sarkar maai baap. Today's ...


Posted by chanakya









Sub: reservations

yes why not when there is a reservation in politics which is the mail driving force for the countries driving force and when there r ...


Posted by prem









Sub: Mandal2 - A curse for the hard working-students

Further reservation for the OBCs in the educational institutes, I think, is a shame. The preperation of students who work hard all round the year ...


Posted by Ranjeet









Sub: student fury at quotas

well i totally support the protest against quotas. this is totally unfair and we will not allow such injustice to happen. the police reaction to ...


Posted by shruti






Disclaimer