Home > News > First Look


Sonia's salvo at the Left

April 21, 2006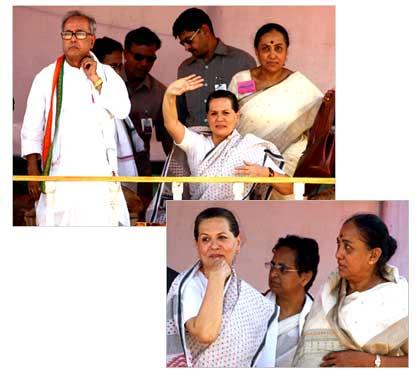 Congress Party President and United Progressive Alliance chairperson Sonia Gandhi did not think twice before firing salvo on the left-run West Bengal government. The congress has an has an alliance with left parties at the centre.
The congress president was on a whirwind tour of the state, where she addressed three rallies successively — first at Baduria in North 24-Parganas, second at Garden Reach in south Kolkata and the last at the Park Circus Maidan, where all Congress nominees from Kolkata, were present.
She criticized the state government "There is no electricity in thousands of West Bengal villages. The UPA government has full sympathy for Bengal. It has been allocating huge grants on different sectors like health, education and other development activities. I want to ask you, how long can such things continue in your Bengal?" she asked.
However, the crowd-turn-out was very dismal compared to the huge election rallies she normally addresses, almost an indication of the results in the state.
Photograph: Deshkalyan Chowdhury/AFP/Getty Images


What do you think about the story?








Read what others have to say:





Number of User Comments: 1








Sub: Sonia's salvo at the Left

Sonia would do well to remember that Begalis love their reds - come what may, they are preapared to live in filth and squalor and ...


Posted by labrea






Disclaimer