Home > News > Report

Scuffle between media, Imam's supporters

Onkar Singh in New Delhi | April 18, 2006 13:51 IST
Last Updated: April 18, 2006 22:53 IST



Journalists waiting outside the prime minister's residence on Race Course road were attacked by the supporters of Shahi Imam Syed Ahmed Bukhari of Jama Masjid, when they tried to stop him for answering some their questions.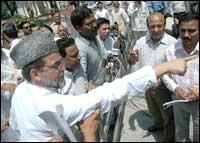 The Imam had visited Dr Singh with a memorandum, which included the demand for an economic package for riot-hit Muslims on the line of one given to victims of 1984 anti-Sikh riots and reservation of jobs for Muslims in central and state governments.
Bukhari accused the media of being agents of the Rashtriya Swayamevak Sangh, who were out to spread communal disharmony. The Imam did little to stop journalists, including women scribes, from being attacked by his supporters, who also used abusive language. 

On a complaint filed by Yusuf Ansari of Zee News and Vijay Trivedi of NDTV, the Delhi police has registered a case against the Imam and his supporters. Vijay had a narrow escape when the Imam's driver almost drove the car over his foot.

Yusuf Ansari told rediff.com that the prime minister's special protection group made no effort to stop the unruly supporters of the Imam.
Former Union Minister and Bharatiya Janata Party leader Ravi Shankar Prasad condemned the attack on media persons and cautioned the Imam against indulging in such acts of violence.
PTI adds:
In the memorandum submitted to Dr Singh, the community leaders also demanded immediate release of Muslims detained under Prevention of Terrorism Act in Gujarat and Maharashtra. They also sought an immediate halt to alleged atrocities on Muslims in Assam on the pretext of checking foreign nationals, restoration of the minority status for Aligarh Muslim University, unconditional talks with 'popular and responsible' leaders of Kashmir and evacuation of illegal occupants from Waqf properties.
Talking to reporters after the meeting with Dr Singh, the Imam hinted at launching a political front if the demands of the community were not met. "There is growing disenchantment within the community, which has led to the formation of the United Democratic Front in Assam," he said.
"We do not want to chart a different path but would be forced to do so if our demands are not met," Syed Bukhari said without elaborating.


What do you think about the story?








Read what others have to say:





Number of User Comments: 6








Sub: Imam's men attack media

Go to hell, you imam.


Posted by Jeetendra kalan









Sub: Imam's men attact media

Is he a terrorist? these kind of people are the ones who are spreading venom in the country, they are responsible for spreading the hatred ...


Posted by Ashish









Sub: Is thsi the way forward

this is an despicable act by the imam and his men. even the rss and sainks have changed the way they deal with the media. ...


Posted by raja









Sub: extremism in every walk of life!!!!

extremism is the way of life for all these people since last 14centuries....!!!!


Posted by Bharath









Sub: violent imam supportors

Now the journalists have the luck to taste the arrogant and violent muslim followers, so you feel different when journalists involved. But that is what ...


Posted by ramche






Disclaimer