Home > News > First Look


Meerut fire: The aftermath

April 11, 2006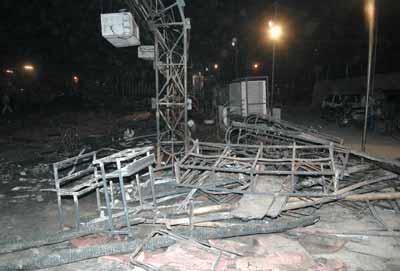 At least 50 people, mostly women, were feared killed on Monday evening in a major fire accident in Meerut, 65 km from Delhi.
The fire spread within five minutes and as there were only one entrance and one exit to the air-conditioned hall, the children and women got trapped in it as the fire blazed rapidly.
The Consumer Trade Fair, where the fire broke out, was being organised by Brand India Consumers Forum and was jointly sponsored by the local daily Dainik Jagaran.
Image: Steel frames and airconditioners of the Pandal for a consumer goods  fair in Meerut which caught fire on Monday evening killing over fifty persons.
Photograph: Sondeep Shankar/ Saab Pictures


What do you think about the story?








Read what others have to say:





Number of User Comments: 19








Sub: Condolence and Grief over administrative actions

Every one Died/Missed, is a number game to politicians and administrative officers,but remember that each individual was an important member of his/her family. God forbid ...


Posted by brijesh chauhan









Sub: Meerut fire''The aftermath

Aren't there fire safety laws in this land, especially with regards to assembly, and especially the exit requirements? It's criminal that there was only one ...


Posted by labrea









Sub: Meerut rire

I, think please suspend the all respective staff of administration, fire, electricity, etc. thanks


Posted by manoj









Sub: Meerut: The aftermath

We let the things happen and then talk about the system and its flaw. The human life is cheap in INDIA. There is no term ...


Posted by Mukesh Setia









Sub: shameful managment

government officials are to blamed..they should all be suspended.


Posted by ajay






Disclaimer