Home > News > First Look


Advani seeks blessings before yatra

April 05, 2006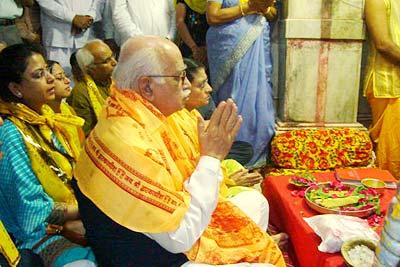 Bharatiya Janata Party leader L K Advani attending the evening aarti on Wednesday at the Dwarkadeesh temple, Dwarka. Advani visited the temple prior to flagging off his Bharat Suraksha yatra from Rajkot on Thursday.
He was accompanied by his son, daughter-in-law, wife and daughter, the latter two seen in the picture.
As Advani entered the temple, accompanied by general secretary Ananth Kumar, there was an electricity outage. This was rather ironic, given that the Gujarat government is very proud of its electricity initiatives in the state.
Advani also visited the Shankaracharya Peetha, one of the five maths established by Adi Shankara. Shankaracharya Nischalanand Saraswati was not present.
He will pay homage to Mahatma Gandhi at his birth place Porbander on Thursday before proceeding on the 6,000-kilometre long yatra, which will conclude on May 10 in New Delhi.
Also read:


What do you think about the story?








Read what others have to say:





Number of User Comments: 5








Sub: All the best

Advani Ji, We all Indians wish U a successful "Rath Yaata" Jai Hind God Bless India.


Posted by Indian









Sub: Advani's Bharat Suraksha Yatra

While Advaniji's current yatra does raise premonitions of violence reminding us of the Somnath Rath Yatra and its aftermath it should be remembered that Laloojee ...


Posted by prabhakar gatade









Sub: When in a rut, get in a rath

This knickerwallah was born in Pakistan and dearly loves Jinnah. This knicker if off then, on yet another yatra with his rabble-rousers to nowhere. Zero ...


Posted by GB









Sub: Gimmick

Advani is a Con Man.First he conned us in the neame of Temple and now in the name of Security.It was during his regime when ...


Posted by Chamo Mbiki









Sub: he is a waste politician

Why is Mr Advani wasting India's money by all these yatras? And fooling us. This is not gonna make any difference to our country. If ...


Posted by rahat






Disclaimer