Home > News > Interview

The Rediff Interview/Ambassador Richard C Holbrooke

'India has something going for it'

April 03, 2006



Richard C Holbrooke is a career diplomat who served as America's envoy to the United Nations and brokered peace in Bosnia in 1995.

Holbrooke, who may have been secretary of state had John F Kerry been elected America's President in November 2004, is certain that the United States Congress will approve the nuclear deal between India and the US.

Holbrooke, who was nominated for a Nobel Peace Prize for his peace-making efforts in the Balkans, was in Mumbai last month to attend the Asia Society Conference on India; he is the chairman of the Asia Society and the Mumbai conference was held at his urging.

In an exclusive interview to rediff.com's Nikhil Lakshman, he explains why America is favourably disposed towards India, and why he is personally bullish about India.

Do you think too much of the new India-US relationship has been anchored on the nuclear deal between the two countries?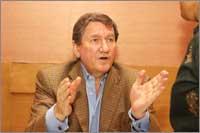 The India-US nuclear deal is of immense historic importance. For it to be approved the law must be changed in the United States. Right now the deal is not consistent with the law. There will be a vote in both Houses of Congress and a simple majority is all that is required.
We need to see if Congress will approve of the change. It is my prediction -- my absolute conviction -- that Congress will approve the deal.
I am virtually certain that Congress will approve this deal. But it will need some work on the part of the administration and India's many friends.
Many observers believe President Bush has exhausted his political capital and hence may be unable to get this agreement passed in Congress.
A President never exhausts his political capital!
His (Bush's) popularity has been declining. He has been badly hurt by Iraq and also by domestic issues like the Dubai port deal, but he has plenty of political capital to get this (the India-US nuclear deal) through.
I predict he will succeed with the Congressional group on the nuclear deal.
Will it be passed because Congress believes India is an important country it needs to have on its side?
Congress will approve the deal for three reasons.
'This is a big step we are taking with respect to India'
First, India is an important country in the world.
Second, they will approve it because the President will say it is in the national security interest of the United States.
Third, the Indian-American community is becoming more and more influential. They will support the deal and they have influence in both (Democratic and Republican) parties.
Has John Kerry become President, you would probably have been secretary of state. Would you have supported such a deal?
I support the deal but I cannot say what would have happened under a Democrat President. That is a hypothetical question. But I think the deal is okay because India is India. It is not a threat to the world.
One issue that must to be dealt with is the effect of the deal on India-Pakistan relations and on Pakistan's role in the world. That is the thing to focus on.
Do you think Pakistan could enact a similar nuclear deal with China? Where would that leave India?
They can. But if they do that all hell will break loose. That would rupture international relations both with China and with Pakistan.
The next administration could be a Democratic one. Do you think the India-US relationship is now independent of which party is in the White House?
Which President reopened US-India relations? Was it George W Bush? It wasn't.
It was President Clinton.
Of course, it was President Clinton's trip in 2000. Bush's trip was important; Clinton's trip was historic.
But don't you think President Bush has taken India-US relations to a level that was unthinkable before?
It was not unthinkable, it was logical. It was Clinton who reopened the relationship and Bush took it to the next level. I repeat -- Bush's trip was important; Clinton's trip was historic. It was the first trip (by an American president to India) in 22 years.
Do you think it is time for America to withdraw its troops from Iraq?
The US is caught in a hellish position in Iraq. If they get out the place will fall apart. If they stay the US gets pulled in to an internal war, which is getting progressively worse.
It is the worst problem the United States has faced since Vietnam. It is a problem that is increasingly troubling and now it is being increased with the issue of Iran's nuclear ambitions. So we are facing a real crisis in the Iraq-Iran area.
Do you think the fallout from Iraq will affect America for years to come?
The outcome in Iraq will affect America's position in the world for years to come. Definitely.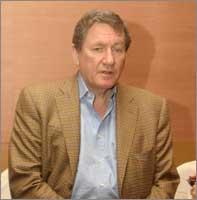 I spoke to Senator Kerry in January and he felt the US army should not withdraw from Iraq but minimise its involvement in daily operations and leave that activity to the Iraqi security forces.
I think it is correct in theory but it is very difficult to implement in practice because you keep getting pulled in.
What about Pakistan? Relations with Pakistan seem to have taken a different turn when compared to previous Presidential visits to South Asia. This time, for instance, India and Pakistan were not clubbed together. President Bush was almost cold in his response to Pakistani overtures.
President Musharraf is a critical ally in the war against Al Qaeda. The issue of what Pakistan is doing on the Afghanistan border is very, very critical.
Do you believe the Pakistanis are really helping the war against terror?
I don't know what is going on. Sometimes they help, sometimes there are rumors they don't. The government seems torn. I do know this -- chaos in Pakistan is bad for India. Not every Indian agrees with that. Many Indians think a weaker Pakistan is better for India.
I think a stable, economically strong Pakistan is in India's interest for three reasons.
One, because it will improve Indian economics too.
Second, it will stabilise the region.
Third, an unstable Pakistan could increase instability in India on the religious side. India and Pakistan are inter-related. You have a situation where the prime minister of India was born in Pakistan and the president of Pakistan was born in India. Doesn't that say everything?
As ambassador to the Balkans, do you think India could ever be Balkan-ised as some Western observers predicted in the 1960s and 1970s?
Many, many people in the last 60 years have wondered how India has stayed together as a single country and a democracy. But it did. It looks to me that the era of separatist tendencies in India is over.
India has something going for it, a sense of being India.
It's amazing; India could easily be 10 or 20 different countries, each with 50 million people.
Are you personally bullish about India?
I love India. I have always been bullish about India even when I worried about India.
India is the indispensable country. The success of India is success for all of us.
There are about a dozen countries in the world whose future matters for everyone. India, China, South Africa, Indonesia, Pakistan… they really matter.
India's emergence as a great power in the world is a great event. Democratic, open and progressive, but India has massive internal problems.
'AIDS jeopardises India's progress'
So you have a very unusual situation. A country that is becoming a world power but is still poor. There are 700 million people in the villages and that is India too. They don't have roads. What is India going to do about its water problem?
And what is India going to do about its young people?
Job creation for these young people, many of them are in the villages.
India is a great country with a great future but it has to find a way to bring more of its own citizens into its future. The educated middle class is part of India's obvious future but what about those hundreds and millions of people in the villages?
Photograph: Jewella C Miranda
The Rediff Interviews


What do you think about the story?








Read what others have to say:





Number of User Comments: 3








Sub: India has something going for it

I know exactly how the govts will deal with the villages and their hundreds of millions of poor and unemployed - offer them free stuff ...


Posted by labrea









Sub: Interview

The Ambassador Richard Holbrooke seems very frank and positive and ready to eloborate on many issues. The questions were mediocre, it would have been much ...


Posted by Kailash Das









Sub: Lending of Chinese governmental banks

I am unable to understand how the main 5/6 governmental banks of China generated money to finance loan to public. Because if you generates those ...


Posted by Anup Deka






Disclaimer