In the concluding part of his exclusive article on the 1965 war, the only Marshal of the Indian Air Force Arjan Singh regrets not being allowed to go on bombing raids during the war.

He spoke to Managing Editor (National Affairs) Sheela Bhatt.
Part I: 'The Indian Air Force wanted to fight'

Continuing our series on The 1965 War, 40 Years On
In 1965, Pakistan was well equipped. Its ability was built with America's help. Even now, America is strengthening its forces. The Pakistan army was sure and stronger in their armour than our people. Tanks are very important in armour. They would not have taken the risk of attacking Chamb-Jaurian and risking the war thereafter if they were not certain that they had a strong army. Their air force was also very strong.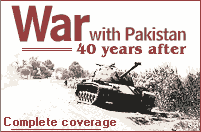 Pakistan has a very good air force. They are well trained, they have good aircraft and their commanders are good, I don't have any doubt about it. Then, I knew them well. They were my personal friends. Some of us were junior lieutenants together and they were very decent people.
However, once war starts your main concentration is how do you do well as a whole force. When I was squadron commander I was concentrating on how my squadron does well.
Photograph: Damaged and captured Pakistani tanks at Khem Karan, near Amritsar. Kind courtesy: Marshal Arjan Singh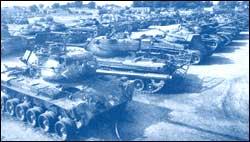 We thought of defending India. We thought how our units do well during the war. Our concentration was only on that.
My experience is as you get into war you are quite afraid for the first few days. You are afraid of being shot down and afraid of being hit and so on. But afterwards, it becomes routine. You never think you are going to be shot down. That is the thinking of all fighters.
The Indian Navy was not allowed to participate. It was a government decision. Personally, I thought they should have been allowed.
About General J N Chaudhary I can say some decisions he probably took without the full consent of air force officers. General Chaudhary's aim was that his army should do well.
Photograph: Air Chief Marshal Arjan Singh with Defence Minister Y B Chavan inspect a downed Pakistani Sabre aircraft at an air base near Delhi. Kind courtesy: Marshal Arjan Singh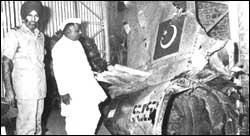 We didn't want to capture Pakistan. That was out of question. We wanted them to stop any action in Jammu and Kashmir. You see, the army can't advance very much; you can't capture hundreds of miles just like that. Every time you win areas the logistics is difficult to manage.
When the army thought we couldn't reach any further both sides accepted a ceasefire. Pakistan first accepted the ceasefire.
Prime Minister Lal Bahadur Shastri consulted General Chaudhary and me before he consented. He was not willing to accept a ceasefire, but there was international pressure. In retrospect I would say the Indian Air Force was not happy to accept the ceasefire because we hadn't suffered much losses, and lost 7 to 8 lives. We were still capable of fighting.
We had an upper hand by the time the ceasefire was accepted. We were sure that the Pakistan air force was not in position to face us. Their attacks on our bases in the early stages of the war were successful, but later on they lost.
Not a single Pakistan aircraft could ever attack Delhi or Agra. They only reached up to Ambala, where Pakistani aircraft destroyed the historic church.
I know Shastri resisted accepting the ceasefire for quite a long time. He was told that Pakistan had agreed to accept the ceasefire if India accepts it.
The Pakistan government's attitude was hostile towards India. They feel they didn't get a fair deal. They felt that Kashmir should have gone to them, not to us. What we know is their education is such that it creates an unhappy feeling about India. I don't think that happens in India at all.
Shastri had laid down that the air force should never attack the civilian population. We didn't hit them intentionally. We hit them in Peshawar. When I went there after the war I saw that many buildings were hit in a village. I am sure many people must have died.
In the Indian defence forces there is a desire to be better than Pakistan, in equipment, operation training and strategy, in every way and everything we did. It is so not because we don't like Pakistan. It happens because we don't know what will happen unless we are prepared all the time.
My only regret of the 1965 war is that while I had ample opportunity to fight during World War II, I personally didn't go and drop bombs in 1965. I was very keen, but the government didn't allow it. If the chief is shot down the government can be blamed.
During war you want to do something, you want to participate. The mere fact that you are dropping bombs gives you a lot of satisfaction.
My whole life and thinking is of the air force. Even now my thinking is like that. I don't consider myself a politician or civilian or anything else. My thinking is always as a member of the Indian Air Force.
I feel India should remember all the wars we fought, even the Second World War. Even though the Quit India movement was on, over a million Indians fought in the war. We were sent to the Burma front. I was a squadron commander. I had with me 20 officers and 200 technicians. The Japanese had captured Rangoon and were advancing. In 1944, for a year, we fought them.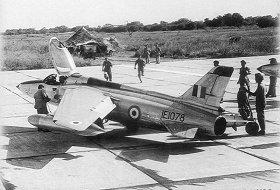 That gave me a lot of confidence and the ability to assess what your force can do and cannot. You can only decide and fight if you have confidence in your services.
In 1965, we had around 12 squadrons at that time. All our aircraft were quite good. We had the Hunter, Canberra and Gnats. Gnats were used in operations but before that they gave us a lot of trouble.
Photograph: A Gnat being readied for take off. Photograph courtesy: Bharat Rakshak
Gnats were very small aircraft, difficult to spot on the radar. As you know radar beams hit the metal of the aircraft and on return gives the blip. The smaller the aircraft, smaller the blip. So Gnats became famous. Even the radar controller would take time to decide if it is a fighter aircraft. We found Gnats very maneuverable. For fighters the most important thing is turning in a circle. If you turn faster your attack is safe. This aircraft had a small turning circle. But it was giving us lots of technical problems.
We lost many test pilots in accidents involving Gnats. We didn't have much confidence till one of the Keelor brothers shot from the aircraft in the Chamb-Jaurian area. They both fought very well and both got the Veer Chakra.
Once one of the brothers shot down a superior Pakistani aircraft, our people got tremendous confidence. Then everybody wanted to fight using Gnats.
When we fight we forget the danger. We want to fight because of our esteem, for our unit's reputation and for our country. Why have the defence forces if we are not giving our best when our country needs it?