Home > News > Specials

The Rediff Special/Syed Firdaus Ashraf

Want to choose America's President?

September 27, 2005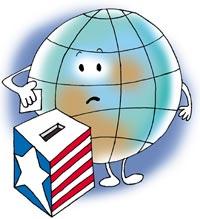 Rediff India Abroad Assistant Managing Editor Syed Firdaus Ashraf was part of a nine-member team of senior journalists from South and South East Asia recently invited to the United States for a two-week seminar. The invitation was extended by the East-West Center, a think tank based in Honolulu, Hawaii.
The visit included trips to Washington, Detroit and Seattle, and its purpose was to provide opportunities for Asian and American journalists to discuss the relationship between Asian countries with large Muslim populations and the US, especially in the post-9/11 period.
In this, the fourth and final part of a series, he shares his experiences in the land of the free...
Want to choose America's president?
Is America all about George Bush and neo-conservatism? The answer is, clearly, No.
When you meet fine people like Gerrard and his wife Sarah in Seattle, they talk about how disappointed most Americans were when Bush was re-elected. Apparently, some felt it was no longer worth living in the US for another four years after the election. Still others believed Bush was taking America 20 years backwards, because of his international policies. In their opinion, he had no idea about the world and wished the globe were the size of Latin America so he could understand it better.
Some also said, jokingly, that the world's population must have the right to elect the President of the United States. After all, the policies it makes affects life globally.
Part I: Mr Ashraf goes to Washington
What Indian Muslims feel
While in America, I was often asked what Indian Muslims thought of their identity and what their attitude towards the US was. I always replied with a small poem by Akbar Allahbadi (1846-1921) composed on the plight of Indian Muslims 100 years ago:
'The master is turned slave, such is the will of fate.
The owner of the palace is now keeper of the gate.
The Englishman is happy, he owns the aeroplane,
The Hindu's gratified that he controls all trade.
While Muslims slave for food as clerks
Our hearts bleed for Persians and Turks.
Imitators of Western music will reign supreme,
Their songs will be out of tune, a cacophonous burst.
Past glories will find a mention nowhere on earth,
Glorious tales of name and fame inside the books will rust.
But why are you perturbed, Akbar, about the changing times?
You and I will cease to be, and mingle with the dust.'
There are two important questions relevant not just to the downfall of the Mughal empire 150 years ago, but also the era we live in: What policy should Indian Muslims follow in the existing political situation where America dominates the world? And how should they maintain their cultural and religious identities amidst forces of globalisation let loose by the West?
Indian Muslims have begun a period of self-introspection, realiSing that narrow-mindedness will lead them nowhere. They will have to find solutions to their own problems, just like their brothers around the world now do.
Part II: Does Bin Laden hate MTV?
Marriage matters
The most disturbing question I asked a Muslim cleric in Washington was whether it was right for Indian Muslim girls to marry Hindu boys.
The answer, from Dr Abdullah Muhammad Khouj, was No.
I then asked if it was okay if the girl retained her religion while the boy retained his. The answer was "Al Haram, Al Haram (It's a sin)." Dr Khouj added that Islam did not permit Muslim girls to marry non-Muslims. The marriage was possible only if the boys converted to Islam. He did say, however, that Muslim boys could marry 'people of the book' like Christians or Jews, and that the girls could retain their own religion. Marrying Hindu girls was impossible unless they first converted to Islam.
My question was based on the fact that, as Muslim girls get educated and become economically independent, it is difficult for Muslim families to tell them not to marry non-Muslims. There are many cases in India -- including one in my family -- but the cleric said they were un-Islamic. He added that one ought to explain to one's sisters and daughters that there was life after death.
It is a question Indian Muslims will have to ask themselves and find solutions to. What will they do when such a situation crops up in their families? Will they be loyal to their religion or give in to demands of female family members?
Banks and Islam
The Indian government can cut more than 30 per cent of your salary as taxes and not pay you a decent amount as pension. What do you do? Invest in fixed deposits or a fund for better returns, right?
Wrong.
According to Dr Khouj, it is not permissible for Muslims even in non-Muslim countries to use the interest amount for their living. "The most you can do with the money is distribute it charitably," he said. "Islam does not believe in taking or giving interest, and all Muslims must know this."
I replied that the only way for salaried Muslim employees in India, then, was to die begging, as the country had no social security system for old age. He again reminded me not to think of worldly pleasure, but to concentrate on life after death instead.
Again, a question for every Indian Muslim: What does one do after retirement? Accept money on interest or follow the tenets of Islam?
Part III: Doing the namaz in bermudas?
More lessons from 9/11
It may have happened four years ago, but 9/11 is still part of daily discussion in most American lives. It is the day they realised they were no longer untouchable. Most Americans I met were sure the next terrorist attack was imminent and that it was only a matter of time.
An interesting thought came from an American think tank intellectual. He said 9/11 made an otherwise ignorant public more aware of the world outside. "Most Americans wouldn't have been able to locate the map of Pakistan or, for that matter, Afghanistan," he said, "and few had heard of a holy book called the Koran. Now, call any American in the middle of night and ask about the Koran. He or she will know what you mean at once".
Illustration: Uttam Ghosh
The Rediff Specials


What do you think about the story?








Read what others have to say:





Number of User Comments: 4








Sub: Muslim and West

I am following Mr.Ashrafs articles on Rediff, what i belive is Islam is a code of life and it can't be altered at any cost ...


Posted by Mudassar Ahmed









Sub: Why Marriage are restricted to a religion or cast.

In my opinion marriages is not between Hindu or Muslim or Christian or any religion, it is between habits one has acquired since birth. One ...


Posted by Karthik









Sub: Tenets of Islam?

I am a little perplexed by the way Mr.Ashraf frames his questions to muslims. Are Dr Abdullah Muhammad Khouj's views the word of god and ...


Posted by aka









Sub: Want to Choose US President

Most stupid article I have ever read


Posted by Lakkshmi






Disclaimer