Home > News > Capital Buzz

Virendra Kapoor | September 26, 2005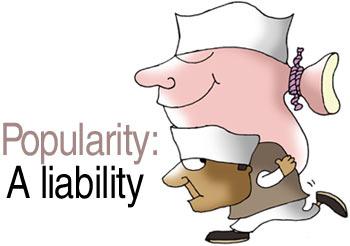 Hard to believe, but true. The Congress party doesn't want popular leaders outside the all-important family. Carrying on the tradition of her late mother-in-law Indira Gandhi, Sonia Gandhi too is suspicious of anyone who might come to develop a constituency of his or her own. Case in point: Delhi Chief Minister Sheila Dixit.
Though her image may have suffered a wee bit due to the recent controversy over inflated electricity bills, Dixit continues to be the most popular Congress leader in the capital. Even the BJP has no one in the local unit to match her popularity. And yet, this has led to her being given a hard time by Congress bosses. This would explain why Sonia has not found the time to meet Dixit, although the latter's request for an appointment has been pending for over four months.
Indeed, a line of thinking in the Congress high command to neutralise the threat is to send Dixit to the Rajya Sabha early next year. A faceless Congressman might then replace her as CM.
The RSS dilemma

The Rashtriya Swayamsewak Sangh has no intention of joining issue with L K Advani. While recently declaring he would step down as BJP president at the end of the year, Advani publicly asked the RSS not to micromanage the BJP.
Deeply hurt by the criticism, RSS chief K S Sudarshan and his colleagues decided, nonetheless, not to indulge in public recrimination with someone who, until recently, was their favourite BJP leader. Instead, they decided to put in place a firm mechanism to avoid such acrimony in future.
Admittedly, the RSS top brass was concerned that if the impression was allowed to grow that the BJP could do what it wanted, other affiliated organisations could get the wrong idea. Therefore, senior RSS cadres may soon define their terms of engagement with various organisations, including, of course, the BJP.
Meanwhile, the draft of Advani's concluding address was shown to Sudarshan by a chartered accountant who enjoys the confidence of both leaders. Sudarshan didn't comment. Neither did Atal Bihari Vajpayee. It was only after the media highlighted Advani's public challenge to the RSS that Sudarshan and Co hardened their stand and vowed not to allow such a situation to crop up again.
Cocktail of politics and business

Without doubt, most Delhiites were angry at their hefty electricity bills. They were angrier still with the growing incidence of wrong billing. But, unknown to most, if their plea for a rollback of the latest 10 per cent hike was heard sympathetically, it was not because of a responsive Delhi government (though the new bills are yet to reflect the rollback). The retreat was forced by a powerful anti-Sheila Dixit lobby within the Delhi Congress, which, in turn, was egged on by an important section of the high command.
Central leaders of the party close to a faction of a big corporate house actively supported the rollback demand. It may be recalled that public ire was directed mainly at the two distribution companies that are part of the Anil Ambani group.
As for the open opposition to the tariff hike by Congress MP Ajay Maken, it is no secret that he was specifically asked to do so by a senior party functionary who is close to Sonia Gandhi. On a cue from party bosses, Maken launched a frontal attack on the Delhi CM. For services rendered, he expects to be rewarded with a place in the ministry.
A dark horse for the BJP

It is still early to say, but when L K Advani finally steps down as BJP chief, according to the present thinking in the Sangh Parivar, none of the top three in the second rung is likely to succeed him. Pramod Mahajan, Arun Jaitley and Sushma Swaraj seem to have cancelled one another out of the race.
Advani is no longer enamoured of either Swaraj or Jaitley, following their opposition to his Jinnah-is-secular stance. As for Mahajan, though a proven campaigner who is also an accomplished orator, his image and low standing with RSS bosses seem to have affected his chances.
Media god out?
The buzz in media circles is that someone who had come to play god at a publishing house may finally be shown the door when he reaches retirement age early in October.
With the owner-editor gradually withdrawing from day-to-day affairs, his chosen successor is put off by the non-writing editor. A suave newspaper editor who doubles as a television anchor is said to be the new boss' preferred choice. The pushy god might yet prove to be a very reluctant retiree though.
Internet abuse
Babus have found a novel use for the Internet, scouring it for seminars and conferences being held in foreign locales. In pre-Internet days, organisers sent detailed letters inviting participation at such dos. Now, one can literally invite oneself by finding out where a conference is scheduled and then seeking an invite online.
Illustrations: Uttam Ghosh
Capital Buzz