Home > News > Report

Don't expect miracles from dialogue process: PoK delegation

Onkar Singh in New Delhi | September 20, 2005 11:14 IST
Last Updated: September 20, 2005 20:49 IST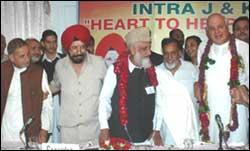 Former Pakistan-occupied Kashmir prime minister Sardar Abdul Qayyum Khan on Monday said no miracles should be expected from the interaction between a PoK delegation and Indian Kashmiris.
Talking to rediff.com on the sidelines of the meet in New Delhi, organised by the Indian Council of World Affairs and Panthers Party president Bheem Singh, Qayyum Khan said, "This is the process that should continue and we are glad to meet and discuss our problems. Hopefully, some solution to the Kashmir issue will emerge."
All Party Hurriyat Conference leader Professor Abdul Ghani Bhatt said it is a nice opportunity to exchange views with Kashmiri leaders on the other side of the border.
He praised the efforts of the ICWA and the Panthers Party for bringing about the meeting.
"Anyone who contributes to the dialogue process will go down in history as someone who was also responsible for solving the Kashmir problem," Bhatt said.
Former foreign secretary M S Rasgotra said the talks can help in formalising the peace process between the two countries.
Former Jammu and Kashmir chief minister Farooq Abdullah made a surprise visit  and met Qayyum Khan.
"The peace process between India and Pakistan is stuck. But I will not blame either side. I hope we have some forward motion during these talks," he said.