Home > News > Diary

Vipin Vijayan in Mumbai | September 19, 2005 18:02 IST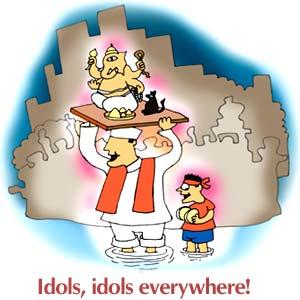 It is two days since Ganesh Chaturthi, and I have come to realise that Karl Marx is one of my more favourite men. He came to mind suddenly, some time on September 17, whispering sagely about religion being the opium of the masses.
I knew exactly what he meant when, for the first time in my life, I touched Mumbai's Chowpatty.
Thousands thronged the waterfront, waiting patiently to immerse their Ganesha idols. I could hear nothing, apart from chants of 'Ganpati Bappa Morya.' There was noise, fanfare, devotion, madness -- in short, pure exhilaration.
Images: Farewell to the Elephant God
To be honest, it was a feeling I was primed for. Something I wanted to experience first hand, which is what drew me to the immersion site in the first place. Blocked roads and jam-packed trains were irrelevant. I knew I had to be there. My taxi driver, who somehow understood I wasn't a Mumbaiker, dropped me at Marine Lines instead of Marine Drive, telling me my destination was five minutes away. I took his word for it and decided to walk, strolled leisurely along the coastline, watching couples gaze out at the sea, spotting the random Coast Guard helicopters fly by.
Five minutes stretched to ten. Still no Chowpatty. A passer-by pointed me to a part of the beach I assumed was just another embankment along the Marine Drive stretch. I continued walking. And then, the rain decided to drop in.
Even though it was just a drizzle, I did feel the lack of an umbrella keenly. The thousands around me, however, ignored the rain. Eventually, so did I. When I began spotting television channels vans, I knew I was close. The sound of drumbeats grew. Around me, processions trailing all kinds of people moved towards the water.
I decided to be part of one such procession. Where it came from is irrelevant, because I can't recollect the name of the mandal. What attracted me was the group of people comprising it -- tiny tots to aged men and women, even the physically challenged, all bound by the same degree of enthusiasm. The minute I stepped into that circle, I felt goose bumps. No, not out of fear. They were born out of sheer indulgence.
Complete coverage: Ganeshotsav '05
As we neared, a three-foot tall idol of the Ganesha holding pride of place among us, the enthusiasm began to mount. Onlookers began chanting alongside. When we finally reached our destination, my jaw dropped in shock. Nothing had prepared me for that large gathering. I had heard about lakhs taking holy dips at the Kumbh Mela, and thousands marching towards Vaishno Devi.
This defied description.
As far as I could see, Ganeshas of all sizes vied for attention, surrounded by folk of all kinds and colours. The amazing thing was the arrangements made for the event, which were excellent. I bumped into a group of lifesavers belonging to the Young Men's Christian Association, who told me that nearly 2,000 idols had already been immersed. With each idol accompanied by an average of 20 people, 40,000 people had walked that path already. And there were around 2,000 more idols to come!
I had been warned by a friend to watch out for unruly volunteers and avoid entering the water. Curiosity forced me to follow the idol though, and I was soon knee-deep in. After a point, we had to stop. The volunteers took over. My journey with Lord Ganesha had ended. Around me, the thousands waved goodbye.
Ganesha promised to be back next year. I know I'll be there, too.
Illustration: Uttam Ghosh
Rediff Diary
Write a Diary!