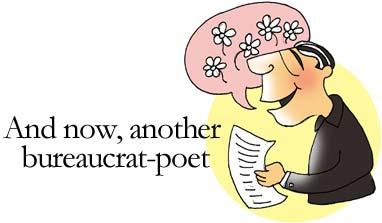 Several years ago, when he was finance minister in the Indira Gandhi government, Pranab Mukherjee's wife Geeta flowered into a fine singer, giving performances at home and abroad. Inder Kumar Gujral's wife Shiela emerged as a ranking litterateur once her husband found himself occupying the PM's seat. Atal Bihari Vajpayee had his poems sung by noted Bollywood artistes with CDs and cassettes released by well-known music companies.
Though not on the same scale, the capital's culture-vultures recently got another 'powerful' poet to celebrate. A few days ago, Sudip Banerjee, secretary, HRD ministry, had a book of poems released at a function organised by his publisher. Several poets sang paeans of praise to his literary talent. Incidentally, Banerjee and HRD Minister Arjun Singh are like politician-bureaucrat twins joined at the hip. Banerjee has invariably found himself working for Singh whenever the latter has been in power, whether in Madhya Pradesh or New Delhi.
Why the RSS likes Khurana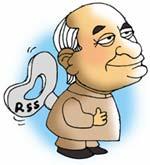 It wasn't Vajpayee alone who rose in defence of Madan Lal Khurana. The RSS too backed the Delhi strongman when he found himself expelled from the BJP on grounds of indiscipline. While Vajpayee openly came out in defence, the RSS exerted behind-the-scenes pressure on BJP President L K Advani, forcing him to withdraw the expulsion order.
Indeed, the Khurana revolt against Advani was choreographed by senior RSS leaders. Before dispatching the letters he wrote to the BJP president, Khurana had their contents duly vetted by a senior RSS functionary. Without the express approval of the RSS leadership, Khurana would not have challenged Advani. In fact, the same RSS functionary worked overtime to have his expulsion order revoked when Advani reacted angrily.
While Vajpayee established his Numero Uno position in the BJP yet again, the RSS succeeded in telling Advani he was no longer welcome to lead the party. In his pre-Jinnah phase, Khurana would not have dared challenge Advani. The latter could also have relied on the RSS' full backing. Now, the RSS eagerly waits for Advani to step down, so it can have its own nominee in his place.
Another son-rise
It pays to keep Sonia Gandhi's political secretary Ahmed Patel in good humour. Nobody knows his importance more than Bhupinder Singh Hooda, who owes his job as Haryana chief minister to Patel alone. So grateful is Hooda to Patel for the deed that he registers his presence at Patel's house in New Delhi almost every week, and can be seen waiting upon him as a loyal lieutenant.
Because he continues to be useful in various ways only Congress leaders can be, when the question of nominating the party candidate for the Rohtak parliamentary seat arose, Patel immediately persuaded the party boss to grant the ticket to Hooda's son. This, despite the fact that the son was away, working in Australia. Junior Hooda is now set to win a huge victory, as the anti-Chauthala wave is yet to dissipate.
Subtle media management?
The buzz in media circles is that one of the country's largest corporate houses is set to buy a controlling stake in a television company with a substantial viewership, especially for its English language channel.
There has been some speculation about the original promoters wanting to quit the high-pressure business and fade away into retirement.
The corporate house, having already made a discreet entry into the print media, would not be averse to buy into an influential channel through surrogates and proxies. Talks, sources maintain, are still at a preliminary stage.
Protest withdrawn
Last week, this column reported how Ramchandra Gandhi felt constrained to quit his membership of Delhi's prestigious India International Centre when denied an opportunity to respond to a review of his book, Muniya's Light, in the Centre's quarterly journal. Happily, the editorial management has realized its mistake, and agreed to publish Gandhi's rejoinder in its next issue. Consequently, Gandhi, a grandson of Mahatma Gandhi, has given up his satyagraha and withdrawn his resignation.
Another self-goal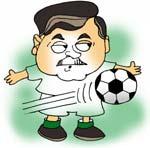 Everyone in New Delhi's power circuit knows that, like Dr Manmohan Singh, his media adviser Dr Sanjaya Baru is a good man who, if allowed to do his job, can acquit himself very well.
But the problem with Dr Baru is that he doesn't always confine himself to his job description, which is briefing the media and keeping the PM abreast of feedback. Very often, he wanders into uncharted territory, landing him and his boss into a soup.
His latest self-goal -- when he informed the media in New York about the PM's indiscretion in complaining to George Bush about Vajpayee's opposition to the recent Indo-US nuclear pact -- was indicative of this.
The problem may stem in part from the lack of a controlling figure at the Prime Minister's Office. T K A Nair, the principal secretary to the PM, is a low-key official who does not have the inclination to interact with the media. The PM himself is of a withdrawing nature. In contrast, Vajpayee's Principal Secretary Brajesh Mishra regularly briefed an important section of the media, while his press adviser Ashok Tandon handled routine matters. The challenge for Dr Baru is to handle the media a la Mishra, though he may not expect to become the all-conquering policy wonk that Vajpayee's chief aide was.
Jana Sangh through the backdoor
Now, why would Praful Goradia, one-time BJP member of the Rajya Sabha, want to register a society under the Societies Registration Act named, of all the things, Jana Sangh?
It is known that a few months after the party didn't re-nominate him to the Rajya Sabha, Goradia -- whose family business includes making toothbrushes for well-known companies -- quit the BJP, saying it had jettisoned its old ideology and that he and a few like-minded friends would revive the Jana Sangh. In that case, he ought to have knocked at the door of the Election Commission, not the office of the registrar of societies.
According to the application filed with the registrar, most members of the proposed Jana Sangh, which Goradia wants to be registered with him as president, are drawn from his family. Of course, it is for the BJP to decide how it can protect the name of its ancestor.
Illustrations: Uttam Ghosh