Home > News > Capital Buzz

Virendra Kapoor | September 12, 2005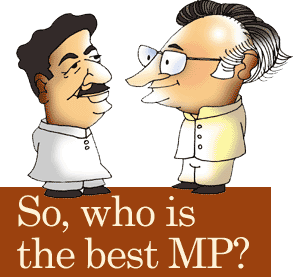 It may or may not be true. As recently insinuated by a newspaper, Congress member Jairam Ramesh has his gaze on the Best Parliamentarian Award. The fact is he does take his duties as MP quite seriously though. A first time member, Ramesh easily comes up trumps in the attendance department. Likewise, he would get high marks for articulation, though the party leadership has been niggardly in allocating him time to speak on major issues.
Most surprisingly, one man who could give him close competition is BJP member Pramod Mahajan. Contrary to popular belief, Mahajan as a parliamentarian is blocks ahead of even such worthies as Arun Shourie, Arun Jaitley and Sushma Swaraj. He comes fully prepared, marshalling his facts and figures so well that even the ruling benches are hard put to counter his case. Besides, he laces his arguments with wit and humour.
To be fair to Ramesh, he readily acknowledges that Mahajan is a first-rate parliamentarian. He also has the good grace to take in his stride the barbs and jokes directed at him by rivals -- qualities that have endeared him to several of his fellow members.
No replies allowed here

Ramchandra Gandhi, former professor at Princeton University and Mahatma Gandhi's grandson, has resigned in protest from the India International Centre. And there hangs a tale about the way things have slipped at the celebrated watering hole for diplomats and peripatetic scholars.
In a letter circulated to fellow IIC members a few days ago, Ramu -- as friends and acquaintances know him -- recounts what led to his leaving what had almost become his second home: 'The summer 2005 issue of IIC Quarterly carries a review by Probal Dasgupta of my book Muniya's Light. The review is a subtly slanderous distortion of the aim of the book, and I appealed to the editorial board to let me respond to it briefly in its next issue. My request has been turned down. Instead, an opportunity has been offered to me to write a 300-word reply in temperate language for the IIC Quarterly of Spring 2006. A classic case of an offer of delayed justice, which amounts to a denial of it. This is totally unacceptable to me.'
Ramu, elder brother of West Bengal Governor Gopal Krishna Gandhi, has long been an institution at the IIC. A model of decorum, his would often be the lone voice of restraint. He will be sorely missed there.
Lalit Suri's gesture to Amethi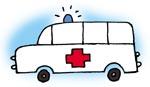 Rajya Sabha MPs have the luxury of choosing their own constituencies for spending funds under the Local Area Development Fund Scheme.
Hotelier Lalit Suri who, at one time, was part of the Rajiv Gandhi durbar, has cleverly chosen to earmark a good part of his allocation for Rahul Gandhi's parliamentary constituency. That would explain the acquisition of 19 spanking new mobile health dispensaries-cum-ambulances by Suri and their presentation to the people of Amethi a few days ago. That should win Suri a few brownie points from 10 Janpath, where Rahul's mama lives.
Sleuths eyeing extensions

Uncertainty hangs over the heads of the country's top sleuths. The terms of both Research and Analysis Wing chief Hormis Tharkan and Intelligence Bureau Director M Narasimhan are about to end.
In fact, Tharkan, a former Kerala director general of police, is already on a three-month extension. He was inducted on the assurance that he would have a clear two-year term.
As for Narasimhan, he too is due to retire next month but, like Thakran, is hoping the two-year fixed tenure proposal for IB and RAW chiefs will finally get a Cabinet nod.
The proposal for giving fixed tenures to chiefs (along with secretaries in the ministries of defence and home) has, however, met with stiff opposition from within the bureaucracy.
For one, it would disturb the sacrosanct principle of seniority.
Secondly, it would cause avoidable litigation with senior officers already hinting at challenging the move.
Besides, not everyone in the United Progressive Alliance government is happy that the Central Bureau of Investigation chief has come to enjoy a fixed tenure, thanks to a court directive.
Commissioned to what?
For almost two years now, Competition Commission staff have been twiddling their thumbs, enjoying their salary, perks and occasional junkets abroad without any substantive work to do.
A former company affairs secretary is a member of the Commission, while a serving joint secretary-level IAS officer is member-secretary. There is another senior Class-I service babu on board, in addition to eight to ten other members.
Following its establishment, the Commission was challenged in court on the grounds that it was not to be headed by a former judge. After a lengthy legal battle, the government agreed to reserve the job of chairman for a former judge. It also agreed to incorporate certain other changes before the Commission could be functional.
Since the government has failed to do the needful, the babus have no work. Meanwhile, former finance secretary D C Gupta, who retired a few months ago, has been made a member of the MRTP Commission, which, incidentally, is to be wound up after the Competition Commission is fully functional. Go figure. \
Illustrations: Uttam Ghosh
Capital Buzz


What do you think about the story?








Read what others have to say:





Number of User Comments: 1








Sub: MP - Truth

Salary & Govt. Concessions for a Member of Parliament (MP) Monthly Salary: 12,000 Expense for Constitution per month: 10,000 Office expenditure per month: 14,000 Traveling ...


Posted by ANIL






Disclaimer