Home > News > First Look

First Look: Blair in India

September 07, 2005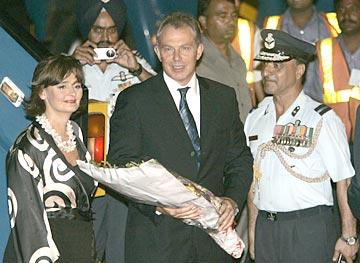 With the United States taking ties with India to a new level, can Britain and the EU be far behind?
So here comes British Prime Minister Tony Blair, who is also the current EU president, to spend two days in India, taking part in an EU-India summit and holding talks with Prime Minister Manmohan Singh.
And this time around, rather than looking for a helping hand from Britain and the European Union, as might have been the case a decade ago, India comes to the talks ready to find out how it and Europe can enrich each other through more investment, trade and energy cooperation.
Today, India is clearly a confident nation at the top of its game; its economic growth is pegged at 7 percent this year, its first aircraft carrier is being built, and a seat on the United Nations Security Council is in the offing.
So, then let's wait and see if the current talks are also as fruitful for India as the ones with the US were.
Photograph: Getty Images/ AFP


What do you think about the story?








Read what others have to say:





Number of User Comments: 8








Sub: Blair in India

It's a great news for the India that the europian countries are now a days more than eager to make investments in India which was ...


Posted by Anurag Srivastava









Sub: India's time has come

Indeed Blair's visit is very important for Indo- EU Business ties.... India's time has come... a wakeup call for India... All the Developed countries are ...


Posted by Shuaib Ahmed









Sub: some respect please!

couldn't you rather refer to India with pronouns such as "she" and "her" rather than "it"? this may sound trivial to some, but it actually ...


Posted by PR









Sub: First Look: Blair in India

Snap of Mr.Blair is not good,change it with a better one


Posted by Chandan Agarwal









Sub: blair visit

Its nice that Mr. Blair visiting India but its looking by the jehad group,so we hope any bad thing will not happen in India as ...


Posted by hector Misra






Disclaimer