Home > News > PTI

Indian, Bangla home secretaries meet

October 27, 2005 14:39 IST
Last Updated: October 27, 2005 16:15 IST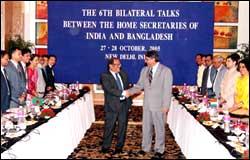 India and Bangladesh held Home Secretary-level talks on Thursday, during which border management and security issues, including the presence of Indian insurgent groups in the neighbouring country, figured prominently.
Senior officials of both governments and border security forces also discussed cross-border illegal migration from Bangladesh during the two-day talks from Thursday, official sources said.
Speaking to media persons before the start of the parleys, Home Secretary V K Duggal said, "We will discuss border management and security issues."
"We have come here with an open mind," his Bangladeshi counterpart, Safar Raj Hossain, said.
The sources said India conveyed to Bangladesh its concern about the presence and activities of Indian insurgent groups
in that country.
Though Bangladesh has been assuring India that it would not allow its territory to be used by militants for anti-India activities, New Delhi is of the view that militant outfits and their leaders continue to operate from across the border.
Among other issues that figured during the parleys were the proper implementation and understanding of the 1975 border guidelines to allow border fencing and developmental work to be undertaken without any hindrance, checking arms smuggling and steps to carry out joint patrolling to check trans-border crimes.
India suggested the need to convene a meeting of the Joint Boundary Working Group to address pending issues relating to demarcation of land boundary, adverse possessions and enclaves. It also suggested the appointment of nodal officers on both sides to check trafficking of women and children.
The issue of release of a Border Security Force watercraft seized by Bangladeshi authorities a few years back also formed part of the agenda.
Further, New Delhi pushed for accords on extradition, mutual legal assistance, ways to combat drug trafficking and consular access during the talks.
The Bangladeshi delegation would meet Home Minister Shivraj Patil and Exteral Affairs Minister K Natwar Singh during its stay here. The last round of Home Secretary-level talks between the two countries was held in Dhaka in September last year. 
© Copyright 2005 PTI. All rights reserved. Republication or redistribution of PTI content, including by framing or similar means, is expressly prohibited without the prior written consent.