Home > News > Interview

The Rediff Interview/US Congressman Gary Ackerman

'India is closely tied to a terrorist State'

October 21, 2005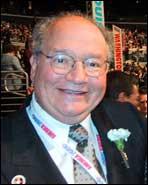 Congressman Gary Ackerman was among the earliest to hail India's vote at last month's meeting of the International Atomic Energy Commission in Vienna, in support of the European Union and US-led resolution finding Iran in non-compliance with its Nuclear Non-proliferation Treaty obligations.
The co-chair of the Congressional Caucus on India and Indian Americans believes the vote, which he termed as courageous, will clearly indicate that India stands with the US and the international community on the question of non-proliferation.
Ackerman, a senior member of the House International Relations Committee told rediff India Abroad Managing Editor Aziz Haniffa that the US Congress will now look forward to India's support in referring Iran to the UN Security Council.
He also hoped New Delhi will sever its relations with Tehran which, he said, could help cement the blossoming ties between India and the US.
Administration and Indian embassy officials both told me they were surprised when the Iran issue dominated the International Relations Committee hearings on September 8, intended to make the administration's case for the nuclear deal with India. How big a factor is it for the committee that India has now voted with the EU and the US at the IAEA?
It's a very, very big deal.
As you heard at the hearing, people are very concerned about Iran and we are hopeful to get the entire international community behind a concerted effort to refer Iran to the UN Security Council and to make for a more secure region in the Middle East and the world.
So would you say that if India does not follow through, and support the US in its move to refer Iran to the UN Security Council, it could impact on the US-India nuclear deal?
If anything can screw the deal up, that's probably it. Iran is a contentious issue; it sticks in the craw of most members of Congress. The country has left a very bad taste since the hostage-taking incident back in the '80s (Following the revolution, the Iranian government held 66 US diplomats and civilians hostage for a 444 day period November 4, 1979 through January 20, 1981); that feeling lingers and the images that Iran evokes are not good.
The fact that they are part of the axis of evil makes it even worse. You know the old adage -- the friend of my enemy is my enemy, and that rings true with a lot of people up here. When countries that are our friends cozy up with countries that are decidedly not, it puts a lot of complications on the table.
So what more does India have to do, with a view to garnering support for the nuclear cooperation deal?
India has to think about modulating its position on Iran.
We know that India is reliant upon Iran as a major source of energy. So that becomes problematic. It's like Jordan was completely dependent upon Iraq for its oil, which it got at way below cost price -- a subsidy on the part of Iraq. But they had to re-think their position to maintain their good standing with the United States. And in the case of Iran, there is no ambiguity; we know it has a nuclear weapons programme. So we would even like to see a complete embargo on Iran by everybody.
But in practical terms, how much does India's vote really matter? Russia and China abstained on this draft resolution, as India did earlier, and they are opposed to referring Iran to the UN Security Council.
You have got to remember that we don't have any major deals pending with Russia and China, as we do with India, which has to be approved by Congress. So India's vote is going to be very, very important toward this process (of Congressional approval of the US-India nuclear deal).
India has maintained that the nuclear deal and the Iran question are two separate issues. Will India's argument, that it is now important to use diplomacy to bring Iran back to the negotiating table, fly with Congress? Or has Congress drawn a line in the sand that Iran has to be hauled up before the UN Security Council?
I don't think that stand by India is going to fly. India's involvement with the IAEA is kind of thin at best.
The administration has not sent up to the Hill (where the US Congress is located) any specifics yet, anyway. From a political point of view, if they sent this (the nuclear deal) over as a free-standing bill, it would probably have a lot of amendments that would be packed on to it that would make it highly problematic. So the administration may try to tack it on to something that has to pass -- like a supplemental for (Hurricane) Katrina (relief), or a supplemental for Iraq.
In the mid-'80s, there was a nuclear deal that came before Congress with respect to China. The Congress then attached a number of conditions that China really couldn't or wouldn't fulfil, and it took a full ten years of diplomatic work to get China to the point where Clinton, who was President then, could certify that China was now in compliance.
I think Washington and Delhi would probably like to avoid that kind of precedent, especially after the (September 8) hearing that we just had.
Prime Minister Manmohan Singh told us that President George W Bush, whom he met on the sidelines of the UN General Assembly has committed to the nuclear deal and is willing to go to bat for it. But he also said the President had expressed the hope Congress would approve it -- implying that the Iran question made Congressional approval somewhat iffy.
The Congress is not calling on India to immediately declare an embargo or anything on Iran -- it is only calling for the matter to be referred to the UN. India's percentage rate of voting with the US at the UN has not been sterling to say the least.
On those matters that are not unanimous, there has not been the kind of support from India, for US positions, a lot of people would like to see. So all of that is not helpful to advancing the sale (of civilian nuclear reactors to India) either.
If the administration attaches the bill to something that has to be passed, that cannot be amended or whatever, if they come up with that kind of strategy, that might be the best bet to get the thing passed. But I would like to see some kind of modulation of India's view on this relationship with Iran.
If the administration uses the stratagem of attaching the nuclear bill to a larger, must-pass bill and thus circumvents Congressional concern, will that generate resentment among members towards India?
Yes, it will, and that's my concern. I don't want anything to be out there that diminishes the size of our (India) Caucus, or is disruptive of the great and wonderful relations that we've built and developed over a period of time. Energy is important, but you know, at what other cost is the question.
What can the Indian-American community do to help things along?
They are the bridge. They have to talk to the Indian side and the American side; they have to get India to continue to support the US on Iran, because otherwise it will be seen as a betrayal. India has to understand it cannot have it both ways, and the community has to help India understand that. The deal then has to be sold to Congress, and that will involve a big lobbying effort (on the part of the community).
During the September 8 hearing your co-chair, Republican Congresswoman Ileana Ros-Lehtinen, expressed concern about what the nuclear deal will do to the United States' professed commitment to non-proliferation. Does this indicate that the Caucus finds itself in a bind on the issue?
I don't know that we find ourselves in a bind. We are united and committed to bettering the relationship with India. But I think everybody is fairly united in their concern that India is closely tied to a terrorist State. And part of the message is that you cannot pick and choose your terrorists -- if you are against terrorism, you have to be against it everywhere, and that is part of our message.
Is the administration ill-prepared to push for the deal? I notice it did not even have a draft proposal to submit to Congress.
Yes, the administration was totally ill-prepared. They were ill-prepared insofar as having a definitive plan or time-table, or a list of what they would like to see from the Indian side before we proceed further, is concerned.
Congressman Tom Lantos was very insulting of India's foreign minister at the hearing; he described the minister as dense, and implied he was an imbecile. Do you think he was out of line there?
I try to be diplomatic, and I won't comment on all of that. But I was a little bit... I am trying to fish for the right word… I didn't expect that strong tone from our side.
The sentiments didn't surprise me at all, and what you heard at the meeting from all members of Congress was a tremendously deep concern, especially from those of us who have been historically in favour of furthering this relationship.
The tone is usually a lot calmer in the Committee on most cases, especially with regard to nations that are friendly. But there were some people who were beginning to look at this relationship between India and Iran as an unfriendly act. There is a great deal of passion on this issue. It (India's ties with Iran) is viewed by many as giving aid and comfort to somebody who has interests that are completely antagonistic to us. As far as that concern goes, it was fairly unanimous, and as you saw, even these friends of India felt compelled to say something. That should send out warning signs.
The Rediff Interviews


What do you think about the story?








Read what others have to say:





Number of User Comments: 14








Sub: WMD? Huh!

Iran is a rogue state? What about USA? A parasitic, infesting nation. Look what they have done to Iraq. Look at the president. Have you ...


Posted by Partha









Sub: India and the American government.

I think the the americans are always riding on a mad horse and trying to stomp every nation along their way. They forget that every ...


Posted by daniel hiwale









Sub: Friend of enemy is enemy??

I would commend third grade rating for knowledge of person who was host for this interview . The reason is that when Gary said that ...


Posted by Gurmeet









Sub: A very weak argument.

If india is being forced to step aside from Iranian relations, because its claimed to be a terrorist state, and saying that a foes friend ...


Posted by Anshu









Sub: blatantly hypocritical

I can understand how diplomacy and politics are inherently hypocritical phenomena, but the degreeo of hypocrisy here is astonishing! 1. "Friend of enemy is my ...


Posted by Amit Shesh






Disclaimer