Home > News > Specials

The Rediff Special/Indrani Roy Mitra in Mumbai

The gurudakshina

October 20, 2005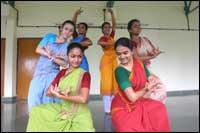 We dance for laughter, we dance for tears/we dance for madness, we dance for fears/we dance for hopes, we dance for screams/we are the dancers, we create the dreams,' wrote a poet years ago.
Dreams reign supreme in the minds of dancers enrolled at the Nalanda Nritya Kala Mahavidyala, on of the tiers of Nalanda Dance Research Centre situated at Juhu, northwest Mumbai.
Nothing, not even a calamity that shook the city on July 26 has any effect on their dreams. The students must realise them come what may.
Therefore, to counter huge losses suffered by the floods (the amount stands at Rs 1,800,000) as also to do up the institute, the students of the Institute will take part in a dance recital at Mumbai's Nehru Centre, October 21, says Dr Kanak Rele, the institute's former principal and wellknown Mohini Attam dancer.
Moreover, the Institute has on its anvil Nrityotsava, an all-India dance festival to be held in January.
Recollecting the July 26 deluge was a painful exercise for Dr Rele.
"No one at the Institute could predict the nature of the disaster, no one could imagine that a day's shower would have the institute's entire ground floor submerged," she said.
Sarup Singh and his priceless loss
Which is why just as the Institute staff managed to carry the ground floor computers to safety, water had eaten up the expensive digital equipment of the institute's recently refurbished studio as well as some important documents.
According to Principal and Kanak Rele's daughter-in-law Dr Uma R Rele, insurance will take care of only 50 to 60 per cent of the loss. "For the rest, we need to raise funds," she adds.
This is not the first time that students of the institute take part in stage shows. They have done many shows earlier. However, according to sources, for the first time, the show will focus on fundraising.
"Though the number of students has increased steadily over the years, the institution has not grown to cater to it," say insiders, citing 'lack of patronage' as the main reason.
The insiders point out an acute lack of information among people as far as classical dance is concerned. "To many, practising classical dance is a futile exercise and it has no future. Therefore, it does not surprise us when sponsors refuse to part with money for classical dance performances, whereas money pours in from every direction when actress-dancer Hema Malini dances on stage."
An obvious question that rises in one's mind: Does classical dance at all have a bright future?
"Of course," asserts Sharmila Taliculum, former rediff journalist and final year degree student. "Many students start giving dance lessons early and more of than not, they are absorbed into prestigious institutes. What many would not know, many successful students set up dance institutes and earn a lot throughout their lives."
Uma Rele feels dance institutes need to gear up their marketing strategy to grab public attention. "If lack of public knowledge is an obstacle, the onus rests on us (read dance teachers) to get rid of that," she states.
Apart from honing up marketing strategy, dance institutes and teachers should seriously think of simplifying the language of the dance to make it more attractive to those not in the know, she feels. "Better marketing and simplified language, will be the best ways to woo more sponsors."
The Institute, say sources, had recently rented out the ground floor to ICICI Bank in its bid to raise money. "Renting out the ground floor added to the students' woes as it spelt more space constraint for them."
The October 21 programme will see students performing solos and duets on Marathi poets' works whereas Nalanda Nrityotsava will present seven classical dance styles: Bharata Natyam, Kathak, Kathakali, Manipuri, Kuchipudi, Odissi and Mohini Attam.
"Applications for the same are invited from dancers all over India and the last date of application is October 31," says the principal.
Should the event be successful, it will consolidate the financial status of Nalanda, which receives grants from the Government of India, government of Maharashtra and the University Grants Commission.
For the moment, students at Nalanda are squeezing out time from their daily schedule as they prepare for the October 21 show, dedication and commitment being their hallmark. A healthy teacher-student relationship lends vibrancy to the classes and helps students come out with flying colours in each and every project.
With unfailing enthusiasm, students dance to the tune of their teachers pledging to usher in better days for Nalanda.
As Taliculam will tell you, "If we are able to take care of the financial losses through these shows, that'll will be the best form of gurudakshina we can offer to this Institute so dear to us."
For more information and for application forms, log on to:
www.nalandadanceeducation.com/nrityotsava.pdf
Photograph: Jewella C Miranda
The Rediff Specials


What do you think about the story?








Read what others have to say:





Number of User Comments: 1








Sub: i want to participate in dance compition is it possible?

I first of all congratulate u for conducting a compition please let me know how i can participate thanks meena shankar


Posted by meena shankar






Disclaimer